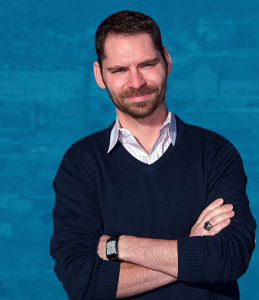 Rep. Mike Kelly (R-Butler) has a potential challenger: Rob Joswiak.
"I'm running for Congress because Pennsylvania's working families deserve a leader in Washington who understands their hopes as well as their concerns," Joswiak said. "In Congress, I pledge to help create good-paying jobs, strengthen our education system, work to make college affordable, and keep our promises to America's veterans and seniors."
A western PA native and Air Force veteran, Joswiak decided to run for Congress following the October 2013 sequester.
Rob enlisted in the US Air Force in 2005. He first served at Ramstein Air Base in Germany as a broadcast journalist for the American Forces Network (AFN) and in 2008 Rob deployed as a combat correspondent to AFN Afghanistan at Bagram Air Field.
During his military career he was a two-time AFN "Service Member of the Year" and received numerous military decorations.
In 2010, Rob finished his tour of duty in the Air Force and returned to the US. He became a public affairs specialist at the US Office of Personnel Management in Washington, DC. The next year he took a position with the Department of Defense's Defense Media Activity department as a product manager.
Earlier last year, he attended The Second Service Fellowship Program, a program designed for military veterans who want to run for Congress or continue a career in public service.
Joswiak didn't do any fundraising for the race in 2013, which he calls a strategic decision based on the slower performance of candidate fundraising close to the holidays in the fourth quarter and decided to wait instead until the first quarter of 2014 to launch his financial challenge.
The 3rd Congressional district stretches the NW corner of Pennsylvania from Erie to Kittanning and includes the counties of Armstrong, Butler, Mercer, Crawford, and parts of Erie, Clarion, and Lawrence Counties.
Another veteran, Matt Ryan also declared his intent to run in the Democratic primary for this seat.
Whoever is successful in the Democratic primary will face incumbent Mike Kelly who has held the seat since 2010 when he unseated Rep. Kathy Dahlkemper (D-Erie), the one term congresswoman for the district.