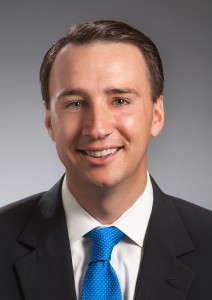 Ryan Costello, Chairman of the Chester County Board of Commissioners, today formally announced his candidacy for Congress today in Pennsylvania's 6th Congressional District.
"With deep humility and excitement, and after discussions with my family and many local residents, I am pleased to announce that I am a candidate for Congress in the 6th Congressional District.," said Costello.
He highlighted partisanship through his announcement release.
"In Congress, both parties need to work together to do what is in the best interest of the country, just as we have worked cooperatively here on the county level," said Costello. "But right now, things in Congress have devolved to a constant game of trying to make the other party look bad. It needs to stop."
Costello is in the process of finalizing the formation of his campaign committee – Ryan Costello for Congress – and filing the necessary paperwork with the Federal Election Commission, a process which should be completed in the next few days.
When Chester County GOP Chairman Val DiGiorgio decided not to run, he threw his support behind Costello.
"Ryan has distinguished himself as a smart and thoughtful leader and dedicated public servant," said DiGiorgio. "His fresh and no-nonsense approach to problem solving and his record of working for taxpayers as a township supervisor and now as Chairman of the Board of County Commissioners make him the clear choice to represent us in Congress."
He could face former Senate candidate Sam Rohrer, businessman Patrick Collins and State Senator John Rafferty for the Republican nod.
Remaining in the prospective candidate pool on the Democratic side are Rep. Mark Rozzi, Manan Trivedi, Chester County Commissioner Kathi Cozzone, State Senator Andy Dinniman and the only declared candidate Mike Parrish.