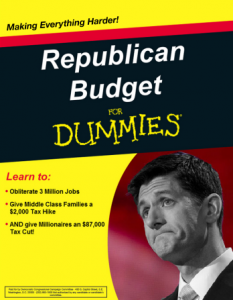 The Democratic Congressional Campaign Committee kicked their efforts in PA-6 up a notch, and created a "Republican Budget For Dummies" in hopes of receiving a response from him.
House Budget Chairman Paul Ryan unveiled this budget earlier in April, igniting all out partisan warfare over his proposals.
The DCCC sent out copies of the budget first, coming in at just over 100 pages in length. Since Republican Costello has yet to respond to satisfy their demands, the DCCC followed up the budget with the two-page "Republican Budget For Dummies."
The document is part of a site entitled "Scandalous: The 2014 Republican Budget." It's just one of several media components on the site. Two videos are set up as a mockery of the popular television political drama "Scandal": the first one features shots of the show weaved in among news clips of former Vice Presidential Candidate Ryan promoting his budget, with characters on the show telling Olivia Pope that she needs to stop him. The second video features more news clips with details of the Republican budget and various politicos speaking out against it.
Beneath that, there's a "By the Numbers" section where the reader can choose his or her state from a list and see exactly how the Republican budget will affect those categories listed. Right under that is the star of this story, the "Republican Budget For Dummies."
"Don't want to read all 102 pages of your Republican budget? Have no fear!" the top of the second page assures, before going into a list of who wins and an even lengthier list of who loses, according to the DCCC.
"Ryan Costello is out of excuses," said Josh Schwerin of the DCCC. "In case the 102-page Republican budget we sent him was too long, we are providing a handy cheat sheet containing all of the middle class-squeezing, special interest-coddling lowlights in Ryan Costello's Washington friends' Republican budget. Ryan Costello cannot hide from the people of Pennsylvania any longer, since this one simple guide shows how the Republican budget obliterates 3 million jobs and hikes middle class families' taxes by $2,000, all while handing millionaires and special interests tax breaks. With this guidebook in hand, Costello can now come clean as to how he would vote on these backward priorities."
Costello's campaign remains unamused with DCCC's cutesy efforts to force a detailed statement on the Ryan budget.
"Ryan is committed to getting our nation's fiscal house in order and  putting a stop to the current process of budgeting by sound bites and partisan attacks, just like the DCCC is doing here," Costello's campaign manager Peter Towey said. "That is what is wrong with Washington D.C. Ryan believes we need to work to pass balanced budgets and stop burdening future generations with mountains of debt, just as he has done as during his time as the Chairman of the Chester County Board of Commissioners."
Costello is the only Republican racing for retiring Congressman Jim Gerlach's (R-Chester) seat. He recently reported a very productive first quarter for his campaign. Costello's Democratic opponent will be Manan Trivedi.
The "Republican Budget for Dummies" is included below: