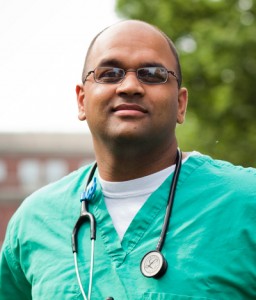 So, just how competitive is the race for Pennsylvania's Sixth Congressional District?
The Trivedi campaign believes victory is very much possible and released results from an internal poll that shows them narrowly trailing Chester County Commissioner Ryan Costello.
The Lake Research Partners survey found 35% of likely voters prefer Costello, the Republican nominee while 30% chose Trivedi, the Democratic nominee. 35% were undecided.
Furthermore, it shows that as respondents learn more about the candidates they are increasingly likely to turn towards Trivedi, an Iraq War vet and physician.
When presented with a paragraph describing each candidate, the numbers shifted to a 38% to 38% tie. Moreover, when the pollsters highlighted the differences between the candidates, the numbers drastically flipped to a 43% to 29% lead for Trivedi.
"For us to be running even in such a swing district that Mitt Romney won in 2012 is good news both in terms of what we have done and where we need to go in the next 100 days," said Trivedi campaign manager, Dylan Gaffney. "Whether it's his service during the Iraq War, being a father of two daughters, or that as a doctor he understands the importance of using evidence, not political rhetoric, to solve problems, voters gravitate toward Manan because they have more in common with him. The hard work of our volunteers and supporters is paying off and now it's up to all of us to turn the corner and win this."
The results also found Tom Wolf leading Governor Corbett in the 6th district 49% to 30%. This is significant because Corbett's name will appear on the ballot right above Costello's. The Democrats believe (and hope) that the Governor, who currently has very low approval ratings, could be a drag on the ticket statewide.
Yet, there are several caveats to these numbers. First, this is an internal poll which should always be taken with a grain of salt. Second, while LRP provided the language that produced the 38-38 split, they didn't unveil what wording they used to negatively describe the candidates. Therefore, we're unable to tell if that titled the results.
Finally, 35% is a gigantic number of undecided likely voters. The district is R+2 which means Trivedi will have to win over Republicans during an off-year election, when more Republicans than Democrats tend to vote.
Not surprisingly, the Costello campaign is not buying the results.
"The Trivedi campaign's release of this memo comes as no surprise – its right out of the playbook for desperate candidates," said Pete Peterson, Costello campaign spokesperson. "Three-time Congressional candidate Manan Trivedi is trailing in the polls, his fundraising is far off the pace set in his prior races and the policies that are the bedrock of his campaign are being soundly rejected. Trivedi can push his work of fiction, but the reality is Ryan Costello is well-positioned to win this race with a sizable 13 point lead among voters and twice as much cash on hand as his opponent. Going forward, Ryan will continue to work hard to earn every vote."
The 13-point lead Peterson is referring to comes from an internal poll that their campaign released last May. He also pointed out that two years ago, the Trivedi camp released numbers from the same firm that found a similar phenomenon during his race against Rep. Jim Gerlach. Nonetheless, Gerlach won 57% to 43% in November.