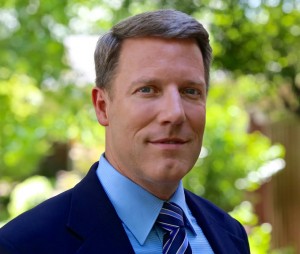 Trying to gain footing in what could be one of Pennsylvania's few competitive congressional races, Mike Parrish is taking aim at his opponent, Rep. Ryan Costello, for supporting the presumptive GOP presidential nominee, Donald Trump.
Parrish called Trump, "a dangerous threat to the freedoms that are fundamental to being American."
In a press release, Parrish said that Costello's support of Trump means, "He lacks leadership and does not have the courage to stand up to extremism and stand with the majority of his constituents."
While severely out-funded, Parrish is running in what ought to be a competitive district.
Just having the New York Billionaire at the top of the ticket in November could cause headaches for down-ticket Republicans across the country, including in Pennsylvania. This is especially true for the 6th district as it includes many affluent voters who have not been big fans of Trump.
Currently, PA Republicans are divided over the GOP front runner. So far, six out of the thirteen GOP congressman have backed Trump with others not speaking directly on the subject. Senator Pat Toomey has yet to announce if he will back Trump as well.
Parrish is hoping to join other Democrats in capitalizing on anti-Trump feelings to motivate independents and even Republicans against Trump and those who support him. Just this week, Hillary Clinton released an ad using statements by prominent Republicans where they attacked Trump.
Parrish needs to ride a large wave in order to defeat Rep. Costello. With Donald Trump at the top of the ticket and Costello's backing of his party's candidate, Parrish is hoping that means surf's up.
The 6th Congressional District consists of parts of Berks, Chester, Lebanon and Montgomery Counties.
UPDATE: Vincent Galko, Senior Advisor to the Costello campaign, provided the following response to PoliticsPA:
"Congressman Costello is concerned that the Democratic front runner for president is currently under federal investigation for the mishandling of sensitive national security information. Her opponent is proposing policies which will bankrupt our nation. It is equally important for the media to find out who Democrat congressional candidates are supporting for the White House. Congressman Costello has stated all along that it is vital for Republicans to win in November and he will be supporting the Republican nominee for president."