Pennsylvania's Sixth Congressional District has haunted Democrats for over a decade.
The GOP has held the seat since the redistricting process brought on by the 2000 Census. The Dems made a major push in 2002, 2004, 2006 and 2008 and despite coming close each time to defeating incumbent Jim Gerlach, couldn't get it done.
Rep. Gerlach did much better in 2010 and 2012, as it appeared he would hold the seat for as long as he liked. Turns out he didn't want it anymore and announced his retirement.
Democrats were overjoyed at this news. After all, John Kerry had won the district by a 52% to 48% margin in 2004 while Barack Obama won PA-6 by seventeen points in 2008.
By this time, though, the 2010 Census brought another round of redistricting and the 6th district now looked much different. There was less Chester and Montgomery County and more rural parts of Berks and Lebanon Counties.
In fact, Mitt Romney won the district 51% to 48% in 2012.
Below, I've created a map of the 2012 presidential contest in PA-8 broken down by voter district. Sky blue signifies Obama received 50%-53%, royal blue signifies Obama received 53%-58%, blue signifies Obama received 58%-63%, navy signifies Obama received 63% or more. Light salmon signifies Romney received 50%-53%, tomato signifies Romney received 53%-58%, red signifies Romney received 58%-63%, maroon signifies Romney received 63% or more. Any voting districts that were tied are colored yellow.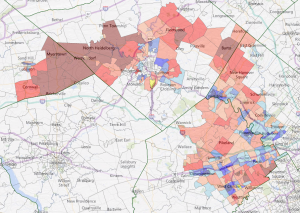 Furthermore, Chester County Commissioner Ryan Costello quickly became the GOP's chosen successor. A popular thirty-eight year old from the district's most populous county, Costello would be a difficult official to beat if he won his first race.
The Democrats responded by selecting Manan Trivedi, the man who was soundly defeated by Gerlach in 2010 and 2012, and he didn't do much better the third time.
As you can see by comparing the two maps, Trivedi had significant trouble winning the suburbs that even Pres. Obama took.
Costello ended up scoring a 26,742 vote victory and took every county although Chester provided the largest chunk (9,664).
Now Mike Parrish has to find a way to crack the code with limited financial resources. Unless he proves a surprisingly tremendous politician, however, the Democrats will face the same issues in 2018 and beyond.