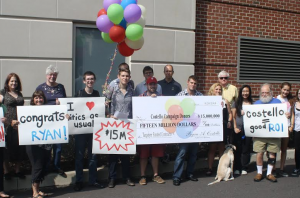 The campaign of Democratic nominee for Pennsylvania's 6th District Manan Trivedi, accused Republican opponent Ryan Costello of using his position as Chair of the Chester County Board of Commissioners to hand out million dollar contracts to his political donors today.
According to Trivedi's campaign, in less than three years as a commissioner Costello has awarded various political contributors with large contracts, totaling more than $29 million.
They further allege that at a meeting today, Costello awarded one of the largest contributors to his campaign for Congress a contract for more than $14 million, nearly matching the cost of all contracts from the past two years.
Trivedi spokesman Daren Berringer pointed to the contracts as an example of how Costello would help to perpetuate the lack of trust in government that many citizens hold today.
"It is clear that in a very short amount of time as commissioner, Ryan Costello has played politics as usual by doling out millions upon millions of dollars in contracts to his political donors," he said.
"With the culture of corruption being what it is in Washington these days, Ryan Costello would fit in nicely, but voters in the 6th District deserve better from their next representative. Manan Trivedi has pledged to fight for stronger restrictions on lobbying because he believes members of Congress should serve their constituents, not the deep pocketed donors that fund their campaigns."
Peter Towey, Costello's campaign manager, countered that many offices must review new contracts before they reach the desks of the County Commissioners, and that at no point does Costello have contact with vendors seeking contracts during the negotiation process.
"These attacks are a joke just like Trivedi's campaign for Congress," Towey told PoliticsPA. "These businesses have been providing services to the county long before Ryan ever became a Commissioner, and were recommended by non-partisan staff and voted on unanimously by both Democrats and Republicans."
"This is nothing more than an attempt from a desperate candidate to distract voters from the fact that Trivedi doesn't live or work in Pennsylvania, and would be a rubber-stamp for Nancy Pelosi's extreme views in Congress," Towey concluded.