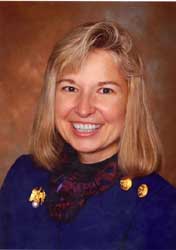 Mary Ellen Balchunis will get another crack at Congressman Pat Meehan after cruising to victory for the Democratic nomination.
The 2014 Democratic nominee beat Bill Golderer by more than 50 points, though the political newcomer and pastor posted much better fundraising numbers throughout the campaign.
With 99% of the precincts in, Balchunis has 51,548 votes (74%) compared to Golderer's 18,279 votes (26%).
Three-term GOP Congressman Meehan saw his own primary challenge by a similar margin, picking up 77% of the vote.
The 7th Congressional District includes most of Delaware County as well as parts of Chester, Montgomery, Berks and Lancaster Counties.