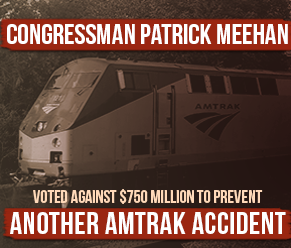 Congressman Patrick Meehan finds himself as the target of Democratic Congressional Campaign Committee ads for his vote on a short-term transportation bill.
The DCCC is launching a radio and digital campaign against Meehan and Ryan Costello, both Republican House members, for supporting HR 2353 – a bill to extend Highway Trust Fund financing for two months.
There has been a "failure of leadership" in the House to make the Highway Trust Fund solvent again, according to the DCCC. Since 2008, Congress has shifted $65 billion in general tax revenues into the fund that was supported completely by the federal gas tax – which has remained the same since 1993.
Meehan "might talk a good game on transportation," but he has shown a "shameful willingness to punt on a long-term solution for the Highway Trust Fund," the DCCC said in a statement.
"The Republican-controlled Congress and Congressman Patrick Meehan had months to find a long-term solution for our nation's Highway Trust Fund and to ensure critical dollars for repairing and updating our roads and bridges," the radio spot says. "Meehan and House Republicans failed to find a long-term solution. Instead, they just kicked the can further down the road."
The DCCC is also releasing graphics for both Congressmen that say they "voted against $750 million to prevent another Amtrak accident."
The Cook Political Report rates both PA-6 and PA-7 as R+2 districts.
Update: NRCC Regional Press Secretary Chris Pack issued the following response:
"If the DCCC is going to attack Congressman Meehan on a vote, maybe they shouldn't pick one supported by 88% of Democrats, including the Chairman of the DCCC and Nancy Pelosi. Not one Member of Congress from Pennsylvania voted against this bill to fully fund the highway trust fund for two more months. With head-scratching decisions like this, it's no wonder that House Democrats have the fewest number of members since the Great Depression."