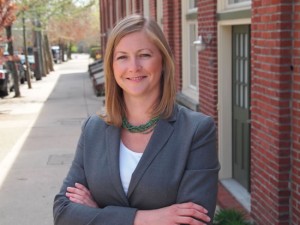 Shaughnessy Naughton received a slew of endorsements from Bucks County politicians as she pursues the Democratic nomination in PA-8.
Over fifteen local officials voiced their support for the congressional candidate The most prominent among her new supporters is former state Commerce Secretary Norval Reece, who is now an activist in the county. Reece served under Governor Milton Shapp in the 1970s, and was also Shapp's presidential campaign manager.
"I am pleased to announce my support for Shaughnessy Naughton for Congress based on experience, understanding of the key issues, and electability," said Reece. "Her plans for economic growth and sustainable development for the Eighth District are well grounded, strong and innovative. Furthermore, she is the only candidate in the race with direct experience in the private sector in balancing a budget, meeting a payroll, and taking care of employees – something badly needed in Washington D.C.
Ruth Foster, and environmental scientist and committeewoman in Buckingham Township, praised Naughton's understanding of ecological issues.
"Shaughnessy gets it when it comes to the environment. She's not a career politician, she's a trained scientist. Instead of looking for short-term fixes that do not address the larger problem of energy dependence and carbon emissions, Shaughnessy wants to invest in our future."
Naughton declared, "I am excited to work with all of my new supporters in my fight on behalf of middle class families."
"I am thrilled to have the backing of so many people from across the District. Bucks and Montgomery County voters are sick of the status quo and are ready for a real leader who is not afraid to stand up to special interests. I vow to put my understanding of balancing short term sacrifice with long term growth to use in Washington. I think that most Eighth District families understand intuitively that we cannot cut our way to prosperity. I will push to invest in what matters: infrastructure and new technology."
Naughton and Kevin Strouse are competing to challenge Mike Fitzpatrick (R-Bucks) for his House seat.
The endorsements are a welcome sight for the Naughton campaign, where Democratic Congressional Campaign Committee (DCCC) pick Strouse has done very well in the past months with endorsements from UFCW Local 1776, Bucks County Commissioner Diane Marseglia and PeacePAC.