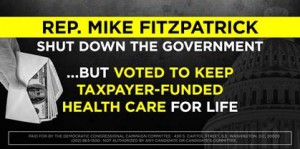 Monday, the Democratic Congressional Campaign Committee released advertisements attacking Rep. Mike Fitzpatrick's (R-Bucks) voting record.
The DCCC highlighted Fitzpatrick's vote in September of 2013 to delay the "individual mandate" requiring that all Americans register for healthcare in 2014. The mandate was the cornerstone of the Affordable Care Act, aka Obamacare.
The Washington post reported at the time that "the U.S. government was poised to shut down for the first time in 17 years, as House Republicans," Fitzpatrick included, "clung tenaciously to their demand that any agreement to fund federal agencies must also undermine President Obama's 2010 health-care law."
Subsequently, Fitzpatrick voted to repeal the Affordable Care Act in 2014. The DCCC allees that its redaction allows members of Congress to retain their government-subsidized insurance post-retirement.
"Congressman Fitzpatrick and this Republican Congress regularly put themselves and their own perks ahead of Pennsylvania taxpayers – and there is no better example of Congressman Fitzpatrick's self-interest than his votes to shut down the government but keep taxpayer-subsidized health care for life," said Marc Brumer of the Democratic Congressional Campaign Committee. "The only thing worse than the damage Congressman Fitzpatrick has inflicted on middle class Pennsylvanians is his record of protecting his own taxpayer-funded perks."
The DCCC previously slammed Fitzpatrick's opposition to the ACA in early 2014. Establishing the website,www.republicanhealthgames.com, the DCCC hoped to show voters the impact of a Republican alternative to Obamacare.
The National Republican Congressional Committee countered this newest round of attack ads by highlighting that Rep. Fitzpatrick voted in favor of the Ryan Budget, or H.R. 96, which states in section 608 "retirement benefits for Members of Congress should not include free, taxpayer-funded healthcare for life."
"It's not surprising that the DCCC would try and prop up liberal Kevin Strouse by flat out lying to the people of Bucks County," NRCC Press Secretary Ian Prior said. "While Strouse is supporting the expansion of Obamacare and other federal healthcare programs to include taxpayer funded sex change operations, Congressman Fitzpatrick is voting to eliminate lifetime healthcare benefits for Members of Congress."
Fitzpatrick will be running in PA-8 against DCCC recruit and Democratic nominee Kevin Strouse in November.