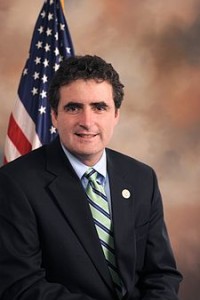 The Lugar Center – created by former Sen. Richard Lugar – has released its bipartisan index for the 113th Congress.
Three PA Republican Congressmen ranked in the top 15 most-bipartisan House members in the index, which analyzed every House member who served between Jan. 2013 and Jan. 2015.
Rep. Mike Fitzpatrick ranked 6th, while Reps. Charlie Dent and Jim Gerlach took 11th and 14th places, respectively.
The Lugar Center's bipartisan index aims to act as an objective measure of how well Republicans and Democrats work with each other by using bill sponsorship and co-sponsorship data.
Sponsorships and co-sponsorships "exist as very carefully considered declarations of where a legislator stands on an issue," the index, created in collaboration with Georgetown University's McCourt School of Public Policy, says.
The last three Congresses have scored very low on the index, and the 112th and 113th Congresses had the lowest bipartisan scores of the 11 Congresses the Lugar Center has analyzed.