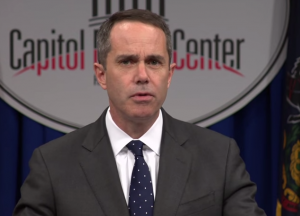 State Rep. and PA-8 Democratic nominee Steve Santarsiero was in Washington D.C. yesterday instead of Harrisburg. Republicans are hoping to make him pay for that.
"Rep. Santarsiero's constituents deserve to know where he stands on this spending plan to fund our schools and our state and why he wasn't in Harrisburg serving as their voice and vote," GOP nominee Brian Fitzpatrick stated.
"With the Pennsylvania House now out of session on a summer-long recess, it shouldn't have been too much to ask for Rep. Santarsiero to be in Harrisburg doing the job he holds now, not campaigning for the one he wants in Washington."
The National Republican Congressional Committee is doubling down on the attack with a robocall set to go out to independent women in PA-8.
"Steve Santarsiero has again demonstrated that he puts his political career ahead of the taxpayers who pay him $85,000 a year to represent them in Harrisburg," NRCC Spokesman Chris Pack said. "The least Steve Santarsiero can do is explain why he was campaigning in Washington, DC when he should have been in Harrisburg finalizing a bipartisan budget to fund our public schools and public universities."
The NRCC provided the script of the call to PoliticPA:
Hi, this is Karen with an important recording regarding education funding in Bucks County.  I'm with the NRCC at 320 First Street Southeast in Washington, DC calling from 202-479-7000.
Yesterday, the state legislature finalized a bipartisan budget to fund our public schools and public universities.
That includes funding for all public schools in Bucks County.
Our state representative, Steve Santarsiero, missed those funding votes because he wasn't in Harrisburg.
Instead, Steve was spotted in Washington, DC campaigning for Congress.
Call Steve Santarsiero at (215) 493-5420.
Ask him why he was in Washington, DC and not in Harrisburg where taxpayers are paying him a $85,000 salary to represent us.
Our students deserve a quality education, not an absent legislator.
Paid for by the NRCC. Not authorized by any candidate or committee. 202-479-7000
"This latest NRCC attack is little more than an effort to distract voters from the fact that Brian Fitzpatrick continues to avoid debating, avoiding his stance on Trump and avoiding telling the voter where he actually stands on major issues," Santarsiero Campaign Manager Eric Goldman told PoliticsPA. "Steve Santarsiero has been and will continue to be a leader in this state on issues that matter to the residents of the 8th District ranging from job creation to college affordability to public safety. It's time to stop the partisan sniping and engage in a real debate on the issues."
The 8th Congressional District represents all of Bucks County as well as parts of upper Montgomery County.