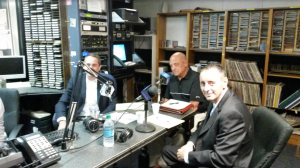 On August 30th, the first debate in the 2016 PA-8 contest occurred in the studios of WBCB 1490.
Democratic nominee and State Representative Steve Santarsiero faced off against Republican nominee Brian Fitzpatrick (younger brother of retiring incumbent Congressman Mike).
Eagles broadcaster and station General Manager Merrill Reese even did the coin toss. Fitzpatrick won and chose to go last.
Bucks County Community College Professor Bill Pezza served as moderator.
The booth was limited to just Pezza, Fitzpatrick, Santarsiero and one station employee. The journalists and aides sat in the lobby.
Opening Statements
It didn't take long for the candidates to map out their strategies, with both taking advantage of their opening statements.
The Democrat sought to delegitimize his rival a bit by bringing up his opponent's family history, with the suggestion that it's what got him here.
"I didn't just move into the district to run for Congress and regardless of how this election turns out, I'm still gonna be here," Santarsiero stated.
Fitzpatrick responded by identifying himself as an "outsider" as opposed to a politician. He also sought to establish himself as independent and emphasized his roots in the district.
"I'm not gonna call myself a partisan candidate, I'm gonna say I'm a candidate for Congress to represent all the people here in Bucks and Montgomery Counties," Fitzpatrick said. "I was born and raised here in this district. In fact, I'm the only candidate in this race who's actually from this district and has called this district home my entire life."
Economy
Pezza began by discussing Teddy Roosevelt and the economic changes that occurred as the 19th century became the 20th century. His initial query was how the 20th century economy would become the 21st century economy.
The responses didn't stay on topic for long.
"I'm not going to label myself, as a my opponent just did at the outset, as a partisan candidate," Fitzpatrick asserted. "Everything is about partisanship with Steve."
He went on to pledge that he would never talk about what party he belongs to or include it on his posters or literature (not exactly a sacrifice when registered Democrats outnumber registered Republicans in Bucks and Montgomery).
"Brian claims that he's the ultimate outsider, the fact of the matter is he's the ultimate insider," Santarsiero countered. "No else would've been able to parachute into this district and become the Republican nominee for Congress."
Fitzpatrick came back strong in his rebuttal, a sign that he wouldn't be passive like he was in his sole debate during the GOP primary. Instead the first-time candidate came armed and ready for this battle with his more experienced opponent. In fact, he tried repeatedly to use that very experience against Santarsiero.
"Only a career politician would call an FBI agent who spent their career arresting politicians an insider. You've got to be kidding me, Steve."
He went on to lament the "polluted mindset" of lawmakers who've been in office too long.
In response, Santarsiero dropped the subtle hints about Fitzpatrick's older brother and bluntly emphasized the point.
"The fact of the matter is you would not be running for Congress today if you didn't have connections. Your brother is the Congressman. You came in from California just eight months ago and were essentially handed the Republican nomination. I think that's the definition of an insider."
Santarsiero also pointed out that Fitzpatrick wouldn't describe his brother the same way he categorized other politicians.
"Steve for you to say that, but for my brother I wouldn't be a candidate, is the ultimate insult to anybody that leaves their hometown in order to serve their country," Fitzpatrick shot back. "I mean Steve, do you want to compare our credentials? Do you think you're more qualified than I am? Only a politician would think that, only a politician. That's why we need to get rid of politicians."
He also claimed that Santarsiero never would've run for Congress if Mike Fitzpatrick hadn't decided to retire.
"You would not be running for this seat if you were not Mike Fitzpatrick's brother," the State Rep. responded. "No one is questioning your credentials-"
"You are," Fitzpatrick injected.
"I'm not," Santarsiero asserted as he asked his opponent not to interrupt him. The lawmaker sought to disapprove the claim that he hadn't been an effective legislator, as well as land some more punches.
For instance, when describing his work during the aftermath of Hurricane Sandy, Santarsiero included the aside, "You wouldn't remember because you weren't here."
Clinton and Trump
The radio station went to a break, but not before Pezza urged the participants to stick to the issues. Thus proceeded the first of three awkward commercial interludes where the combatants sat silently ignoring each other for a few minutes before proceeding with the debate.
When they returned Pezza brought up a subject sure to inspire invective, the presidential race. He wanted the candidates to recognize the negative feelings voters had for the person atop their ticket.
Santarsiero turned the issue to Trump, calling him unqualified and noting that several Republicans aren't backing Trump. Pezza tried to get him to talk about Clinton but the State Rep. said he couldn't separate the two.
"It's impossible to not speak about both of them at the same time because that's who we're left with," he stated. "I will be voting for Secretary Clinton. At the end of the day, Mr. Trump is not fit to be President of the United States."
Fitzpatrick bemoaned that both candidates have over 50% disapproval before almost criticizing his party's nominee.
"First of all, Donald Trump is not even a real Rep-, Donald spent most of his life as a Democrat. He, much like Bernie Sanders, was essentially a third party candidate who ran inside the Republican Primary."
He went on to accuse Santarsiero of being partisan by not criticizing Clinton. Fitzpatrick then proclaimed that Hillary is "not eligible to hold a security clearance" because of the email issue.
"Be honest Steve," Fitzpatrick challenged. "For once in your life be independent."
Steve Santarsiero hit back by noting that Fitzpatrick stated he would vote for Donald Trump and brought up Tom Ridge's statements against the GOP nominee.
"You say you criticize him, but you're still voting for him."
The Republican candidate tried to turn the issue back on Clinton, claiming her server was probably hacked by the Russians and Chinese.
"If you were truly independent, you wouldn't be voting for Donald Trump," Santarsiero stated at one point.
The two proceeded to talk over each other again.
"Do you believe Hillary Clinton is honest and trustworthy," Fitzpatrick asked.
Pezza ended the conversation without getting the candidates to answer the two important questions that they'd posed to each other in that segment. I decided that if given the chance after the debate, I would ask Santarsiero if he thought Clinton was honest and trustworthy. I'd also ask Fitzpatrick why he's voting for Trump despite his claim to be free of partisanship.
Income Inequality
The subject then turned to how best to help the middle class.
Santarsiero discussed raising the minimum wage, job training and improving infrastructure. Fitzpatrick focused on education and creating jobs.
The debate then reached its second commercial break.
Student Debt
Bill Pezza questioned the candidates on how to reduce the incredible burden of student debt.
Santarsiero, a former high school teacher, discussed lowing interest rates and costs of public tuition. He also revealed that he and his wife dropped their older daughter off at college just the previous day.
Fitzpatrick couldn't resist getting another jab in at his opponent's background, "Steve's answer is that he wants a national conversation about the costs, that sounds like a politician's answer if I've ever heard one."
TPP/North Korea/Obamacare
The moderator then moved on to the issue of trade, specifically the Trans-Pacific Partnership. The candidates are both opposed to the increasingly controversial trade deal.
Pezza then chose North Korea as the sole foreign policy question of the debate, citing their recent hostility. Santarsiero and Fitzpatrick argued for supporting our allies and not getting involved in armed conflict unless absolutely necessary.
Finally, the last question pertained to Obamacare. Pezza proposed whether either candidate would support a single-payer system or a public option. Santarsiero supported the latter while Fitzpatrick backed neither.
Closing and Aftermath
Santarsiero closed again with his experience and roots in the district, noting that he had spent the past 21 years in Bucks.
"Regardless of what happens, I will be here," he unsubtly pledged.
"We need a change in this country," Fitzpatrick concluded. "Our politicians have failed us. Steve, you've had your chance to lead. You have not led, I will."
I tried, as did a few other reporters, to talk to Fitzpatrick afterwards but he left quite quickly. WHYY's Dave Davies gave it his best shot, following the Republican out the door and attempting to ask Fitzpatrick about Donald Trump. Fitzpatrick brushed him off, got in his black SUV along with his aides and his driver and got out of there.
Conversely, Santarsiero stayed around to take pictures and questions from reporters.
When my turn came up, I brought it back to the question of Hillary Clinton's trustworthiness.
"I think at the end of the day, of the two candidates, she is the most qualified person to be President of the United States," he stated. "I don't believe that Donald Trump is fit, temperamentally or otherwise, to be President. This is, I think, I clear choice. I worry, with Trump, that the way he is so erratic, that if he were the President he would get up any given morning and make any comment that would have a potentially devastating impact on our country. For me that's the overarching issue."
"You can think what you what about Hillary Clinton, but at the end of the day, the person she's running against matters," Santarsiero continued. "I thought it was telling that my opponent, who claimed not to be partisan, but is steadfastly supporting Donald Trump. He didn't explain why and I assume it's because he's the Republican candidate. I think he owes an explanation to the people of the 8th district."
I went at the question again, proposing that Clinton passed a "trust threshold" for him that Trump did not.
"I think she passes the credibility threshold to be President of the United States," he responded citing her experience as a Senator and Secretary of State. "Just as Republican candidates in the past for President have been qualified, there's no question that Mitt Romney was qualified, that John McCain was qualified. These people, they had been in public service for many years, they had broad experience that Trump doesn't have. But most importantly, they had the temperament to be President, and he doesn't have that and he's demonstrated that time and time again."  
"So it's both a pro-Clinton and anti-Trump stance you have then?" I asked.
"Yes," he answered.