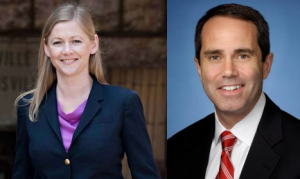 Shaughnessy Naughton: 3 Steve Santarsiero: 2
That's the final score in the fundraising battle between the two Democratic hopefuls in the PA-8 race. While next Tuesday's results are the only ones that matter, they will be shape by the money battles of the last year or so.
Santarsiero started out with a quarterly win, followed by three straight Naughton victories, only to be bookended with Santarsiero coming out ahead again this quarter.
Let's take a deep dive of the pre-primary first quarter which ran from January 1st to April 6th.
Top-Line Numbers
Santarsiero outraised Naughton $428,211.35 to $384,187.04 in the first quarter of 2016. Naughton was still able to outspend her opponent, though, doling out $630,422.25 compared to his $549,090.86. She also still has the cash on hand advantage ($388,751.15 to $301,606.60).
A couple notes before we get into the details. Naughton paid back the final $4,500 that she lent to herself back during her first campaign in 2013. Her campaign also had to refund $7,700 in contributions while Santarsiero gave back $2,285.
Contributions
One of Santarsiero's strengths throughout this contest has been PAC money. He took $89,700 from PACs this quarter while Naughton's got only $2,178 (although this number is a bit deceptive, but we'll get to that).
The NEA Fund for Children & Public Education and Carpenters' Legislative Improvement Committee each gave $10,000. Among those that gave out $5,000 were the New Vision America Fund, American Federation of Teachers, MACC PAC, IAFIRE PAC, and the USW PAC.
Other prominent labor supporters were: Transport Workers Union PAC ($2,500), Bricklayers and Allied Craftworkers PAC ($2,500), NOR PAC ($3,500), Highmark PAC ($1,000), Friends of Israel PAC ($2,500), Because I Care PAC ($2,000), National Action Committee ($2,500), Sun PAC ($1,500), National PAC Federal Account ($2,000), Roofers Local 30 ($1,000), Citizens Organized PAC ($3,000), Cement Masons and Plasterers Local 592 ($2,000), BASF PAC ($3,000), UFCW 1776 ($500), Duane Morris PAC ($1,000), Boilermakers and Blacksmiths LEAP ($1,000).
A number of the State Rep's colleagues also pitched in: Matt Bradford ($1,000), Madeline Dean ($1,000), Tina Davis ($500), John Galloway ($1,000), John Yudichak ($500), Mike Carroll ($500), Dan Gilman ($1,000), Jeff Dence ($1,000), Bob Harvie ($1,000), Dan Miller ($250), Dan Frankel ($500) and Tim Briggs ($500).
Naughton didn't get nearly as much PAC support but her sparse donations were nonetheless important. For instance, the Democratic Congressional Campaign Committee chipped in $1,000. She also got $1,000 from Congressman Bill Foster's PAC.
Additionally, Naughton received $81,875.46 worth of donations from her supporters at EMILY's List, which for whatever reason were scattered across her 11a donations and not included in the 11c PACs section.
Expenses
Most of the money spent by campaigns usually goes to staff and routine bills for office supplies. We like to take a look, however, at the where the rest of the cash goes.
Santarsiero, for instance, spent a massive $306,638 to AL Media for TV ads. He also spent $81,078 to The Pivot Group for the printing of direct mail pieces.
Additionally, $24,000 was spent on Greenberg Quinlan Research's polling as well as $5,000 on digital consulting from New Blue Interactive. Stanford Campaigns and Rittenhouse Political Partners also contributed $4,000 and $3,500 worth of work respectively.
He also spent $5,415 to NGP Van and $3,000 to the state party for access to the voter databases.
Naughton, meanwhile, handed over $386,550 to Screen Strategies Media for TV ads and $10,000 to McKenna Pihlaja for production. $30,870 and $20,302 went to GBA Strategies and Princeton Strategies for consulting work. Email consultant Mothership Strategies got $18,199 while Next Level Partners received $9,000 and Blue State Digital $2,600.
Printing duties went to The Strategy Group ($3,048) and Keystone Millbrook ($1,693).
She also gave the PA Dems $3,000 and NGP Van $2,700 for access to their database.