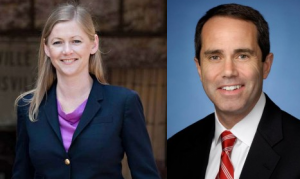 Another FEC deadline has passed, which means we can take a look at one of the most competitive congressional primaries so far: the contest between 2014 candidate Shaughnessy Naughton and State Rep. Steve Santarsiero for the Democratic nomination in PA-8.
We compiled a similar report for the first fundraising quarter three months ago. The second fundraising quarter stretched from April 1st to June 30th.
Top-line Numbers
Naughton outraised Santarsiero in the second quarter $178,988.03 to $155,864.49. The latter spent more money ($76,955.97) but Santarsiero still has the cash on hand advantage ($282,852.67). Naughton meanwhile disbursed $66,293.12 and holds $242,172.95 COH.
Two noteworthy numbers before we dive in. Santarsiero loaned himself $40,000 this quarter which is included in his fundraising total. Also, Naughton has her own loans from the last campaign as well as a $22,850 disputed debt to the Dover Group.
Contributions
Once again, Santarsiero has a big lead among PAC donations. Altogether, he received $27,250 from political action committees while Naughton got $2,000.
The State Rep. biggest contributors were labor unions, including: Sheet Metal Workers ($5,000); Plumbers Union Local 690 ($5,000); LIUNA ($5,000); UFCW ($2,500); PASNAP ($1,000).
Santarsiero also got some help from some of his colleagues like Dwight Evans and Bill Keller, two influential Philly lawmakers who each gave $1,000. State Rep. Marc Gergely and State Sen. John Yudichak also contributed $500. Finally, State Reps. Maria Donatucci, Frank Farina, Dan McNeill, Mike O'Brien, and Cherelle Parker all individually donated $250.
Meanwhile, half of Naughton's PAC money came from a $1,000 contribution from Congressman Bill Foster's PAC that was earmarked through the DCCC. The other $1,000 came from Cozen O'Connor.
Her most well-known individual contributor was undoubtedly former Governor Ed Rendell, who gave $1,000. Gov. Rendell endorsed Naughton when she announced her candidacy last March.
Among some of her other notable supporters were physician Janet Haas ($4,700), Dr. Bayard T Storey ($4,400), Democratic political consultant Joe Trippi ($2,700) and venture capitalist Frank Levinson ($2,250).
Expenditures
Most of the money spent by campaigns usually goes to staff and routine bills. That doesn't mean, though, that interesting nuggets can't be found.
Rittenhouse Political Partners received $14,458 from Santarsiero's campaign for fundraising work. The team also spent $2,357 to use NGP Van.
Naughton spent $9,250 on NGP Van. She also used a number of different consulting firms, among which were: opposition research firm HSC Inc. ($8,237); fundraising consultants Yellow House Partners ($6,000) and Next Level Partners ($4,000).
The 8th Congressional District represents all of Bucks County as well as parts of upper Montgomery County.