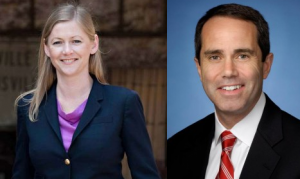 Shaughnessy Naughton and Steve Santarsiero fought it out in the race for cash throughout 2015.
After four fundraising quarters, though, Naughton has now won three straight after Santarsiero prevailed in the first quarter.
Let's dig deeper, though, and take a more detailed dive into both candidates' reports. The fourth fundraising quarter covers from October 1st to December 31st of last year.
Top-Line Numbers
Naughton outraised Santarsiero $320,119.91 to $200,650.68 in the fourth quarter. She also spent more than he did ($126,586.27 to $101,697.53). Overall, Naughton's biggest strength at the moment is her cash on hand advantage. She has $634,986.36 while Santarsiero is holding onto $422,486.11.
Two notes before we continue. Naughton paid back another $4,000 that she loaned her campaign during her previous run, though there's still $4,500 remaining. Also, the Naughton team and the Dover Group finally came to an agreement on a disputed debt and resolved the issue.
Contributions
While Santarsiero was beaten overall, he once again won more PAC support than his Democratic primary opponent. In fact, his $24,036 in PAC money is an improvement from the third quarter while Naughton's PAC numbers plummeted down to $6,750.
Much of the State Rep's support once again came from labor. The Ironworkers Political Action League, Mid-Atlantic Laborers' Political League and AFSCME all gave $5,000 each.
Other union supporters included: Transport Workers Union ($2,500), Local 13000 Communications Workers of America ($2,000), and PASNAP ($500).
He also got a $250 contribution from Eugene DePasquale's campaign committee months before the Auditor General endorsed his candidacy.
Naughton, on the other hand, got her biggest support from female groups. Tri-State Maxed-Out Women gave $2,500, while Congresswoman Lois Frankel's PAC gave $1,000 and WUFPAC $250.
Additionally, she got some significant donations from law firms like Winston & Strawn ($2,000) and Cozen O'Connor ($1,000)
Expenditures
Most of the money spent by campaigns usually goes to staff and routine bills for office supplies. We like to take a look, however, at the political consultants the campaigns are using.
Naughton used a few different consulting firms. Email consultant Mothership Strategies got $12,334 while Next Level Partners received $5,200 and media consultant Positive Communications charged $2,750.
The campaign also spent some cash on mailing and research as well. EMILY's List (a prominent Naughton supporter) was paid $6,711 for postage on their mailers while $4,050 went towards NGP Van. Another $2,579 in printing costs went to Keystone Millbrook.
On the other side, Santarsiero's largest expenses were $10,000 for a poll from Greenberg Quinlan Rosner and $7,500 for digital consulting from New Blue Interactive. Additionally, $3,500 was spent for research from Stanford Campaigns while the State Rep also paid $1,125 for access to the Democratic database, NGP Van.
The 8th Congressional District represents all of Bucks County as well as parts of upper Montgomery County.