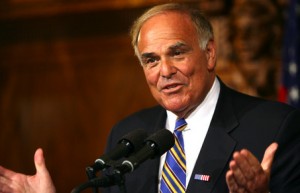 It's that time of the year again. Well, actually there are four times like this every year.
It's quarterly deadline season, that period when campaigns across the nation plead with contributors to give just $5, $10, $5,000 more because these fundraising reports will be how political pundits judge their electoral chances.
As a result, candidates like to bring out the big guns for these occasions. In PA-8's Democratic primary, Shaughnessy Naughton's campaign is bringing out one of the biggest guns in the commonwealth.
"Shaughnessy Naughton needs your urgent support," former Governor Ed Rendell writes. "Shaughnessy can win this race, but only with your support."
The ex-Governor goes on to point out the Keystone State doesn't have any female representatives in Congress before transitioning to his final pitch.
"I know Shaughnessy has what it takes to win this race," Rendell concludes. "She's an accomplished scientist, she understands Bucks and Montgomery counties, and she knows how to get things done for working families. Let's give Pennsylvania's 8th District the strong progressive voice it deserves."
Rendell endorsed Naughton when she first announced back in March and also delivered some last-minute support in 2014.
Naughton is running against State Rep. Steve Santarsiero in the Democratic primary. The 8th district is represented by retiring Congressman Mike Fitzpatrick. It consists of Bucks County as well as part of upper Montgomery County.