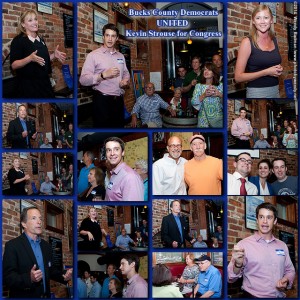 It was a competitive, close primary contest but now Democrats in Pennsylvania's Eighth Congressional District are focusing their sights on Rep. Mike Fitzpatrick.
That was the message of last night's "unity" event between Democratic nominee Kevin Strouse and his primary opponent Shaughnessy Naughton.
Held at the Pag's Pub and Wine Bar, a narrow space in the heart of Doylestown, about seventy supporters turned out to bury the interparty hatchet.
Both Strouse and Naughton gave brief comments to the assembled crowd. Strouse thanked those who came and applauded Naughton's effort.
"Any candidate who climbs into the arena and runs for elective office deserves all our respect," he said.
Naughton sought to rally the faithful against Fitzpatrick as well as pointing out that the Democrats need just two seats to take over the State Senate (if Wolf were to win the Governor's race).
"Shaughnessy ran a strong, earnest campaign, and I sincerely appreciate her graciousness and willingness to stand with us as we take on Mike Fitzpatrick and bring new leadership to Congress," Strouse said in a statement after the meeting. "Both Shaughnessy and her campaign team have expressed their desire to be as helpful as possible, and I am very thankful to have their support. Last night's event drew supporters of both campaigns from every corner of the district, and it was inspiring to see such a large crowd of Democrats united to take on Fitzpatrick and Corbett this fall."
"I said to Kevin on election night and I reiterated it last night, anything I and my campaign can do to help in November we will," Naughton said.