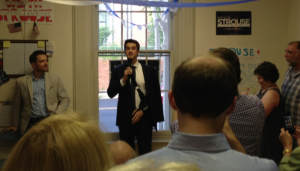 Democratic candidate for Pennsylvania's 8th congressional district Kevin Strouse hosted a grand opening party at his brand new office in Doylestown yesterday, accompanied by Steve Cickay, Democratic candidate for PA Senate district 10, and Eric Nagy, the new Executive Director of the Bucks County Democratic Committee. Strouse will face incumbent Mike Fitzpatrick in the general election.
A grassroots atmosphere permeated the night, both in the decor and the words spoken by Strouse, Cickay, and Nagy. Homemade signs reading "Raise the Wage," "People, not Banks," "Stand with Strouse," and "Turn Bucks Blue" hung throughout the office, where Strouse's friends, family, and volunteers and local residents stood eating hoagies and drinking soda from solo cups. Attendees wrote why they were voting for Strouse on large colorful post-it notes and stuck them to the walls.
Nagy, who introduced Cickay, focused on the growth of the Bucks County Democratic Committee and the rebranding it is currently undergoing. "If we want to change the committee, optics go a long way," he said. "We're only going to be taken as seriously as we take ourselves."
He discussed not just Kevin's race in November, but the necessity of maintaining grassroots activism across other PA races and into the future after 2014's races have been decided.
"We will turn this county blue once and for all. If you're tired of Chuck McIlhinney, here's your guy," he said, pointing at Cikay. "If you're tired of Mike Fitzpatrick, here's your guy," he claimed, pointing to Strouse.
"And if you're tired of Tom Corbett, I got a guy for ya, and his name is Tom Wolf. Together, these three gentlemen are going to help turn not only our county around, but our state around. This is the year to do it. Don't believe what anybody tells you, we can do it this year."
Cikay, who introduced Strouse, did not say much, focusing mostly on Strouse's credentials. In discussing Strouse's ivy-education, Cikay joked, "It would be refreshing to have a bright man in Congress."
Strouse pointed to recent declines of the people's faith in government as reasons why his campaign strategies would thrive, making references to last October's government shutdown – while noting Fitzpatrick's role in that drama – and the too-large six-figure salaries of members of Congress.
"This is the kind of campaign that wins elections, especially in a year like 2014, when most of the country is disillusioned," Strouse said. "And you should be. If you're not disillusioned, then you're not paying attention."
He closed with strong optimism for the next 90 days of the campaign. "Despite all that [disillusionment], there is a great positive energy here. This is the kind of grassroots stuff that kicks off a strong campaign that stands in sharp contrast to what our opponent is doing right now."
Strouse faces a tough campaign season, and will have to overcome Fitzpatrick's cash advantage and his strong familiarity with the district if he hopes to win in November.