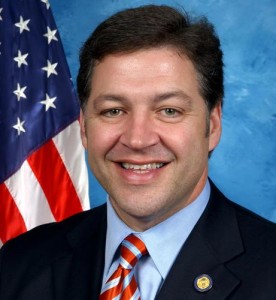 Alongside a presentation of the Spirit of Enterprise Award, the U.S. Chamber of Commerce officially endorsed Rep. Bill Shuster (R-Briar) in his campaign to remain in the 9th district, citing his business-friendly efforts and political views.
"The U.S. Chamber is proud to stand with local Pennsylvania job creators to endorse Bill Shuster and highlight his proven record on issues that boost growth and hiring," said Janet Kavinoky, Executive Director, Congressional and Public Affairs, U.S. Chamber. "Bill is focused on removing regulatory barriers, making our infrastructure system work, and getting Entitlement spending under control. He understands that free enterprise will ensure our best days are ahead, and we look forward to continuing to work with him."
The Chamber held two events for Shuster on Monday. The first was in Blair County at the Sheetz Distribution Center in Claysburg, where Shuster received the Spirit of Enterprise Award along with the Chamber's official endorsement. Chairman of Sheetz Inc. Stan Sheetz spoke at the event about Shuster's positive impacts on his company through his role as Chairman of the Transportation and Infrastructure Committee. The second affair took place in Franklin County at Valley Quarries, where Executive Vice President spoke out for Shuster's pro-business actions that took aim at Washington regulations looking to constrict businesses.
"I'm working each day to advance policies that reduce the size of government, cut spending, and create economic growth in the private sector," said Shuster. "I'm honored that the U.S. Chamber has recognized my continued fight in Washington for our job creators in the 9th Congressional District by endorsing my reelection campaign for Congress."
This is the second notable endorsement Shuster has received this month. Last week, the National Rifle Association announced its support for the 9th district incumbent. He's also received the support of the National Right to Life organization, comfortably solidifying his position on the conservative side of the spectrum.
As the May 20 primary date quickly approaches, Shuster faces challengers Art Halvorson and Travis Schooley for the Republican primary contest. Only one Democrat, Alanna Hartzok, stands on the left side of that spectrum, patiently waiting until November.