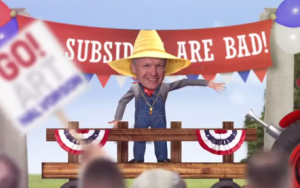 Recently, Rep. Bill Shuster (R-Briar) of PA-9 released an ad denouncing Art Halvorson as a hypocrite, claiming he had made money off of subsidies for his farms; and Halvorson released radio ads saying that Shuster supports a new vehicle tax. On Friday, Factcheck.org stepped in to sort through the accusations.
Shuster sent out multiple mailers along with the television ad that accused Halvorson of accepting those government subsidies. Coinciding with the release of the ad, the incumbent's campaign created a site entitled "Hypocrite Art Halvorson" that contained documents supposedly proving that Halvorson had benefitted from and willingly signed up for these subsidies.
According to Factcheck.org, this may be stretching the truth a bit. "The ad claims Halvorson's farm in Iowa "got half a million dollars." Halvorson rents the property to a farmer who has received $423,019 worth of USDA subsidies over 18 years, but only a fraction of that was for farming done on Halvorson's 40-acre property. And the subsidies went to the farmer, not Halvorson. Halvorson did, however, indirectly benefit from subsidies, which increased the value of his property."
In addition to that, he could have cancelled the subsidies if he wanted.
Robin Robertson, executive director of the Bedford County USDA, told the Daily American  that when Halvorson purchased the land, he could have terminated that contract, but he would have had to pay back all of the subsidies paid to the previous owner, plus interest and a penalty.
"Halvorson continues to throw up one smoke screen after another in order to distract voters from the fact that he has taken and directly benefitted from federal subsidies after he campaigned against them," Shuster's campaign manager Sean Joyce said. "Art Halvorson condemned the real farmers from Central Pennsylvania for taking farm subsidies, while he lined his pocket with those same federal dollars. Halvorson continued to campaign against these subsidies, while his 'farm' in Iowa continued to receive the federal monies as well."
There are also clips of Halvorson remarks, the first saying that he is against subsidies and the second saying that he has benefited from ethanol subsidies for his Iowa farm, but Halvorson maintains his innocence.
"Mr. Shuster has spent a lot of time and hundreds of thousands of dollars running a personal smear campaign that has been proven false." Halvorson said. "This third party investigation clearly shows that he misrepresented the facts by misconstruing documents and citing evidence out of context, a fact that has troubling implications.  Given the critical problems facing our nation, Mr. Shuster should stop these false attacks and focus on the important issues facing the voters of Pennsylvania's 9th District."
But despite his outrage, Halvorson, too, was accused of being misleading in his ads.
A radio ad from the Halvorson campaign, meanwhile, claims Shuster is "leading the charge" for a new vehicle mileage tax (VMT), essentially a tax based on how much someone drives. Shuster has expressed some support for considering such a tax in the future, but he has not endorsed such a plan. And it is not on the table for this year's budget. Therefore, to say Shuster is "leading the charge" for the VMT goes too far, according to FactCheck.org.
"In regards to the VMT, Halvorson must not have read the Factcheck.org article the whole way through, because it states that Art Halvorson's relentlessly negative campaign has it entirely wrong once again, discrediting his radio ad on the VMT: 'All of those comments…they fall short of him endorsing it, let alone "leading the charge" for it, as the Halvorson ad alleges,'" Joyce said.
Halvorson is running as a Tea Party challenger to unseat Shuster in the 9th District, along with Republican Travis Schooley and Democrat Alanna Hartzok.