One thousand two hundred and twenty-seven.
Art Halvorson's years-long effort to unseat Congressman Bill Shuster, which was aided by revelations about the incumbent's personal life, came up 1,227 votes short.
When all the votes were counted, Shuster finished with 49,393 (50.63%) while Halvorson received 48,166 (49.37%).
I've created a map below that breaks down the results by voting district. Light salmon signifies Shuster received 50%-53%, tomato signifies Shuster received 53%-58%, red signifies Shuster received 58%-63%, maroon signifies Shuster received 63% or more. Plum signifies Halvorson received 50%-53%, orchid signifies Halvorson received 53%-58%, purple signifies Halvorson received 58%-63%, indigo signifies Halvorson received 63% or more. Yellow signifies that the district was tied.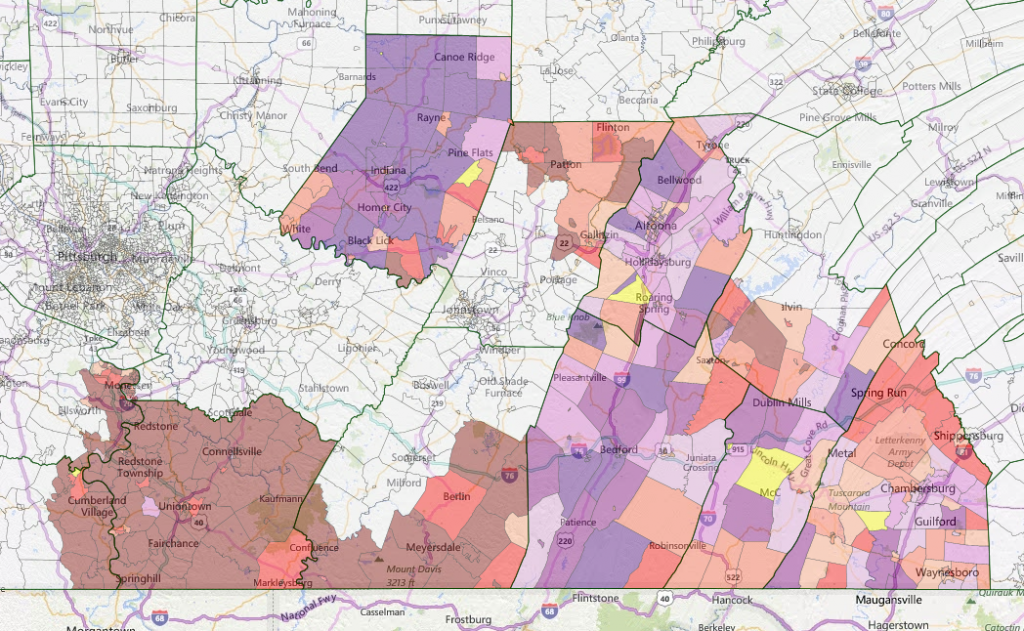 As you can see PA-9 is a sprawling district over several counties. Shuster won seven of those counties: Fayette (3,923 margin), Somerset (1,446), Washington (1,226), Cambria (718), Greene (579), Huntingdon (165) and Westmoreland (130).
Halvorson meanwhile prevailed in the other five counties: Indiana (3,180 margin), Blair (2,043), Bedford (1,293), Franklin (372) and Fulton (72).
Shuster is unopposed in the general election as he runs for his ninth term. It wouldn't be surprising, though, if Halvorson tries to see if the third time will be the charm in 2018.