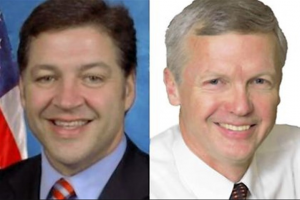 The GOP primary battle between Congressman Bill Shuster and Art Halvorson has become the nastiest and most personal of this election season.
The two already had a deep-seated enmity, after all they ran against each other in 2014, but Rep. Shuster's personal revelations have taken matters to a whole other level.
This could be seen in the candidates' one and only debate, which was covered by Sarah Wheaton of Politico (Politico is also the site that first uncovered Shuster's relationship).
"I'm not owned by the lobbyists; Mr. Shuster is," Halvorson charged. "In fact, he cavorts with a lobbyist who lobbies his committee."
"What's disgraceful is [Halvorson's] continued personal attacks on me, his misrepresentation of my record. In fact, some of it is just plain not true, but he continues to say it," Shuster countered. "The people of the 9th Congressional [District] know me, because I'm from here. I didn't conveniently move back to the district to run here, to spend my wealth."
Halvorson even went after Shuster's father, Bud, whose career mirrored his son in many ways. Bud Shuster also was a Congressman and Chair of the Transportation Committee who was forced to step down in 2001 after questions emerged about his relationship with a lobbyist. Bill Shuster won the special election to replace him.
Apparently the Shakespearean nature of the tale was just too much for Halvorson to resist.
"We had a senior congressman who was chairman of transportation, was reprimanded and resigned in disgrace, and 16 years later we have a similar, almost exact situation happening," Halvorson said. "And yet it's OK, and somehow the ethics must've changed, or else the friends of the current congressman have allowed a different interpretation of the House ethics rules."
"But as I read it, this close intimate relationship with a lobbyist who has access to his committee and who is able to pass fast-track legislation through his committee and then cavort on South Beach, Florida, almost as a celebration of what they had just foisted on the American public, I think is disgraceful and I think is grounds for him to resign," he concluded.
Shuster meanwhile attacked Halvorson for accusing the Congressman of only wanting to debate along the Democratic fringes of the district. Rep. Shuster asserted this attitude shows his challenger doesn't understand the area he is trying to represent.
The 9th Congressional District consists of all or parts of Bedford, Blair, Cambria, Fayette, Franklin, Fulton, Greene, Huntingdon, Indiana, Somerset, Washington and Westmoreland Counties.
The primary election is set for April 26th.