In the fight to keep his PA-9 House seat, Rep. Bill Shuster's (R-Blair) campaign released a new television ad poking fun at opponent Art Halvorson and his contradictory views on farm subsidies.
"Meet Art Halvorson!" the ad begins, with the former Coast Guard Captain's face imposed over a Looney Tunes-style background. "He's campaigning hard against subsidies."
Halvorson is then heard in a voice-over clip claiming, "All subsidies are bad."
Self-proclaimed Tea Partier Halvorson owns two farms, one in Iowa and one in Pennsylvania. Some of his land was enrolled in the Conservation Reserve Program, a subsidy that entails a 10-15 year contract with the owner to not produce on the land in order to keep it healthy. The ad says that his Iowa farm was subsidized for half a million dollars, and his farm in PA received "thousands more."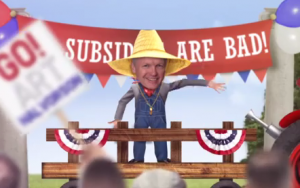 In January, he spoke out against the just-passed farm bill.
"Many farmers would disagree with me, because there's a personal benefit," Halvorson said at the time. "I'm saying that in the long run that it's detrimental any time the government tries to step in to influence markets. Ultimately it's a bad deal. It creates a market where people are encouraged not to produce."
He also mentioned that he opposed the subsidies that his farms received. The ad brings this statement front and center, saying that Halvorson claimed that the government forced him to sign for the subsidies. "But public records show Halvorson signed up for the subsidies himself," the ad says.
"Art Halvorson's no conservative," the ad concludes, "he's a hypocrite, and Washington already has enough of those."
The snappy little ad was created by PoolHouse Digital Strategies and will run on broadcast and cable at a combined buy of $400,000. It will be going up on broadcast in the Altoona/Johnstown market along with a significant cable buy throughout the 9th District. Shuster's campaign has also put the ad up on pre-roll, meaning it will appear prior to online videos on several national sites targeting registered Republican voters in the district.
"[It's] just another way our campaign is looking to saturate the market to ensure younger Republican voters who may not be as tuned into cable are still able to view the content and see the hypocrisy that embodies Art Halvorson and the negative campaign he is running," Shuster's campaign manager Sean Joyce said.
Shuster's campaign has also put up a web site, hypocritehalvorson.com. It contains the paperwork on his farm's subsidies and a couple sound clips of Halvorson saying how he is not only against subsidies, but also how he has benefited from them.
Along with Halvorson, Republican Travis Schooley and Democrat Alanna Hartzok are among those hoping to be the one who unseats Shuster from PA-9.