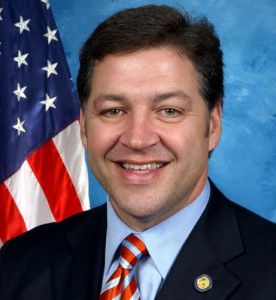 Off of Lincoln Way in Chambersburg, behind a Perkin's and next to an Ollie's Odd Lot Outlet, lies Rep. Bill Shuster's (R-Blair) brand new Franklin County Campaign Office, officially opened up today with a ribbon-cutting ceremony.
"I can't thank you enough," Shuster said to the crowd, which included Rep. Rob Kauffman (R-Franklin) and State Senator Richard Alloway II. Shuster's opponent Art Halvorson had been at the office before Shuster arrived, but left several minutes before the ceremony began.
Shuster commented on the fact that Halvorson had placed his campaign material out on the table along with Shuster's, saying that he feels he's "subsidizing his opponent," remarking on the irony of this when it comes to Halvorson's view on subsidies.
Shuster also spoke about the 1,000 signatures he had received in order to get him on the ballot. "I get a little crazy during the petition weeks," he joked, and added, "I'm sure we're gonna get a lot more than 1,000 with your effort."
Indeed, during and after the ceremony, Shuster's campaign manager Sean Joyce was in constant contact with their staffers who were attempting to use the state's new system for counting petitions. About 10 or 15 minutes after 5:00, the news came in that Shuster had his 1,000 signatures and he would be officially on the ballot, barring an enormous petition signature challenge.
Shuster and Joyce explained that this was the first time in the entire state that the system had been used. Since he was the first candidate to turn his signatures in, Shuster became the first candidate to be on the ballot in the state of Pennsylvania.
"Our grassroots effort is really strong," Shuster said, "it's a great effort."
A way to get that grassroots effort even stronger with the help of social media made itself clear through a conversation with Joyce and the campaign's Executive Assistant and Scheduler Kristen Alcalde. The two promoted the campaign's mascot, Alcalde's new puppy, at his Twitter handle @PA09pup.
Incumbent Republican Shuster is running to keep his seat in Pennsylvania's 9th District against Coast Guard Veteran Halvorson, a Tea Party member, and Travis Schooley, also a Republican.