The war of words continues in Pennsylvania's 9th District as Rep. Bill Shuster (R-Briar) debuted another ad attacking opponent Art Halvorson, saying that Halvorson is not a true conservative.
"Where does Art Halvorson stand?" a voice asks to start the ad off. "Not with conservatives."
The voice goes on to list a few instances where Halvorson's conservative views as a member of the Tea Party might be called into question, starting with the infamous farm subsidies debacle.
"Halvorson has already admitted to taking thousands in taxpayer subsidies," the ad notes, citing an October 2013 interview on the Kelly Spinner show as proof. "Halvorson said he'd vote to raise income taxes on 99% of us and cut the child tax credit in half," the ad continues.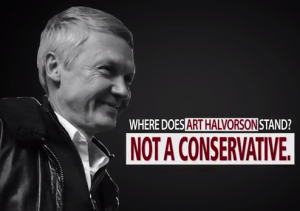 It cites this article from the Tribune-Democrat of August 2013. The ad also claims that Halvorson "would have voted to allow IRS targeting of conservatives continue."
"That's not all," the voice says, tone growing lower and slightly more menacing with each accusation. "Halvorson said he'd vote with Democrats to stop Republicans from passing legislation."
In conclusion, the ad asks, "Think Art Halvorson is a conservative? Think again."
"Halvorson said he entered this race when Congressman Shuster voted to protect 99% of Americans from the largest tax increase in history," Shuster's campaign manager Sean Joyce said in a statement released with the ad. "Perhaps he should have gone further east in Pennsylvania when he was looking for a place to carpetbag to, because these views seem to be more in line with Allyson Schwartz's district than the conservative views Congressman Shuster shares in PA-9."
The district is rated R+14 by Cook PVI, indeed making it one of the highest-rated conservative district in Pennsylvania. Along with Halvorson, Shuster faces challenges from fellow Republican Travis Schooley and Democrat Alanna Hartzok. It has recently been announced that Shuster, Halvorson and Schooley will meet up for a series of debates regarding their views and plans for the 9th District.