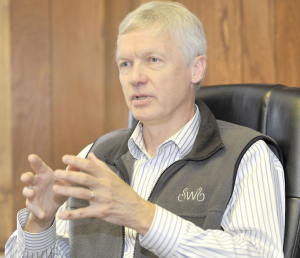 On August 9th, a woman working a booth for Representative Bill Shuster at a fair filed a report stating that congressional candidate Art Halverson approached her and "grabbed her tightly by the wrist," according to a report from Patty Yauger of the Herald-Standard.
The woman, Meghan Boocks, asserts that she was manning a table at the Fayette County Fair with her fiancé James Keenan, when Halverson approached them both. Boocks claims Halverson grabbed her by the wrist and enquired about who Rep. Shuster's campaign manager was. He left promptly after telling Boocks to "personally tell [Shuster] that he would destroy him in the election and take his job."
Halverson, a registered Republican, was previously unsuccessful in securing the GOP nomination, but has since been running his campaign on the Democratic ballot after receiving support as a write-in.
He later told Yauger that Boocks was lying.
"I never shook [Keenan's] hand and I certainly didn't touch this young woman's wrist. This is beyond imagination. It is striking they would come up with this."
Halvorson went on to say that he only wanted to know the identity of Shuster's campaign manager.
"I've only seen statements from Casey Contres, who is [Shuster's] taxpayer-funded communication's director," he stated. "She responded that he was doing both by splitting his time or something to that effect.
Congressman Shuster condemned his opponent for the incident.
"Art Halvorson inappropriately and aggressively grabbing a young woman, who works on my campaign, is disgraceful," Rep. Shuster said. "Under no circumstance should he ever make physical contact with a staffer, much less a young woman.

"His denial is troubling, since there was a witness there to see the entire incident. It is disturbing that he believed it was okay to intimidate her and make her feel uncomfortable," he concluded. "He should leave my staff alone."
The 9th Congressional District consists of all or parts of Bedford, Blair, Cambria, Fayette, Franklin, Fulton, Greene, Huntingdon, Indiana, Somerset, Washington and Westmoreland Counties.