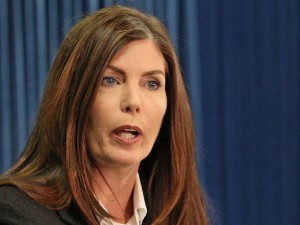 Pennsylvania's Attorney General race will be an important and intense statewide contest.
Which makes it unfortunate that it's been hidden a bit by the fervor in the Presidential and Senate elections going on right now.
The contest gets renewed attention, however, in Governing Magazine's rating of each AG race in 2016.
Louis Jacobson classifies the PA election as one of three tossups this year.
"With her decision not to seek another term, Kane's nightmarish tenure as AG — which has included criminal charges against her and a suspended law license — is now winding down, leaving a wide-open contest to succeed her," Jacobson begins.
"The Democratic field includes three credible candidates who have been aggressively attacking each other: Montgomery County Commissioner Josh Shapiro; John Morganelli, the Northampton county district attorney who lost the 2008 general election for attorney general; and Stephen A. Zappala Jr., the Allegheny County district attorney," he continues. "Shapiro is the frontrunner, boasting endorsements from Gov. Tom Wolf and former Gov. Ed Rendell. Zappala has the backing of Lt. Gov. Mike Stack, while Morganelli counts former Philadelphia District Attorney Lynne Abraham in his corner."
"The GOP field, meanwhile, features two candidates from Scranton: State Sen. John Rafferty and former police officer and federal prosecutor Joe Peters," Jacobson concludes. "It's too early to say which party will have an edge in November, particularly if the presidential contest comes down to Donald Trump vs. Hillary Clinton. In that case, top-of-the-ballot pressures could shape the parties' downballot prospects."
The primary is set for April 26th.