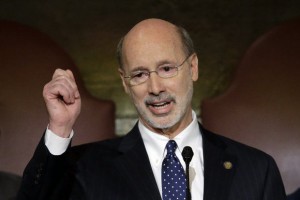 It seems Gov. Tom Wolf wants to open up budget talks with the GOP leadership in the state legislature. Specifically, he wants to invite anyone who's interested.
In his latest attempt to have his demands heard in the Capitol Building, Wolf emailed supporters with the office numbers for Senate President Pro Tem Joe Scarnati, Senate Majority Leader Jake Corman, House Speaker Mike Turzai and David Reed, the House Majority Leader.
In his email, Wolf tells Pennsylvanians to talk to the GOP leaders about "how budget cuts have negatively impacted your school district, talk about how property taxes have gone up, and talk about how kicking the can down the road harms our state's prospects for economic growth."
"Throughout the budget process, I have strived to keep an open mind and I have expressed a willingness to work with Republicans in the legislature on a number of issues," Wolf begins the message. "But I will do what Pennsylvanians elected me to do: restore funding for education, make big oil and gas pay their fair share, and fix the fiscal mess Harrisburg has ignored for years."
Since vetoing the GOP-approved budget on June 30, the Governor has also rejected the pension, education and liquor privatization bills that landed on his desk.
One of many of the sticking points in the budget is talk from the Governor's office of a $3 billion structural deficit in the state, a number Republicans disagree with.
"He's a consistent candidate who has yet to transition to government," Spokesman for the House Republican Caucus Stephen Miskin told Brad Bumsted of the Tribune-Review. "The email borders the line between politics and lobbying. It is his campaign lobbying for his budget."