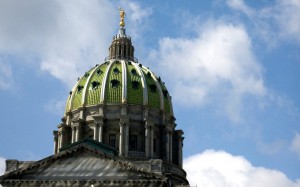 In the three months since PA last had a budget, Gov. Tom Wolf and GOP legislative leaders have hogged the news cycle. Now it's the "rank-and-file" Republicans time to shine.
In a Wednesday morning interview with KQV-AM in Pittsburgh, Wolf said he will continue negotiating with GOP leaders, but will try to build majority support with "good Republican legislators" who are looking to pass a serious budget.
The first-year Governor vetoed a stopgap budget proposed by the GOP on Tuesday, after Republicans in the House and Senate worked for several weeks to put it on his desk.
Republican leaders in both legislative houses have said they will put Wolf's proposed tax increases to a final vote. While Wolf is confident he can find enough votes to force his plans through, several more weeks could be wasted if the bills fail.
House Majority Leader David Reed and Senate Majority Leader Jake Corman said they will encourage their "rank-and-file" members to meet with the Wolf Administration – as Wolf had asked – according to Brad Bumsted of the Tribune Review.
To pass his bills, Wolf will have to convince 18 GOP representatives and 6 GOP senators of his plans, provided every Democrat aligns with the Governor.
Wolf has proposed an increase in the personal income tax and an expansion of the state's 6% sales tax, as well as a $1 increase on every pack of cigarettes sold in PA. Wolf has put forward plans to institute a natural gas severance tax in order to refill the state's education coffers.
Officials estimate the tax plans will increase state revenues by $1.8 billion in the 2015-16 fiscal year and an additional $3.2 billion in 2016-17.