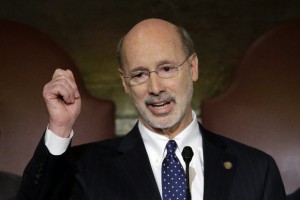 Though this year's budget is now seven months late, Gov. Tom Wolf is gearing up to lay out his budgetary vision for 2016-17.
In an interview on KDKA Morning News Tuesday, the second-year Governor warned that the next budget could do even more damage to the state's financial health, if it comes to his desk unbalanced.
"We have a train wreck coming," Wolf told KDKA. "My insistence on getting it right on the '15-16 budget is because we are facing, in 2016-17, a huge hole."
It is not the first time Wolf is warning about the multi-billion-dollar structural deficits the state faces, but lawmakers are quickly running out of time to turn around the sinking ship.
"If we don't fix the budget deficit by '16-17, there are going to be huge cuts in education and huge cuts in local services, so that local taxes are going to go up and services are going to decline," Wolf said. "So we need a real balanced budget, we need some honesty, we need fiscal responsibility. It's not just me saying this, it's the rest of the world looking at Pennsylvania."
Wolf's first budget fight has been one for the history books. In his first year, the Governor vetoed several GOP-proposed budgets before approving a partial $23 billion spending plan at the end of December.
Wolf has insisted on "historic" increases in education funding and roughly $1 billion in new taxes to fix the state's bottom line, while GOP leaders want to see liquor privatization and pension reform as part of the final agreement.
After 211 days without a budget, "negotiations" have ground to a halt, threatening any chance of progress on either budget.