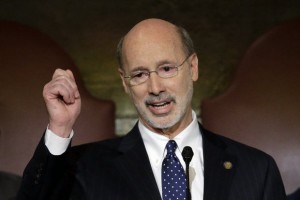 After falling short with his best chance to win the budget stalemate, Gov. Tom Wolf said he will continue to insist on tax increases to fix the state's finances.
"I think there's a dawning awareness that I'm not going to cave on this, I can't cave on this," Wolf said in an interview with KDKA-AM on Tuesday. "I'm one of 12.7 millions Pennsylvanians, and we've got to have our state on a sound financial basis. That's all I want."
House GOP leaders gave the first-year Democrat an opportunity to put his tax proposals to a final vote after 14 weeks without a state budget agreement. Wolf's proposed increase to the state's personal income tax and a severance tax on the natural gas industry failed in the House, 127-73.
Now 105 days into the budget impasse, school districts, counties and service providers are facing layoffs and/or taking out millions of dollars in loans.
The state is also facing another credit downgrade if lawmakers in Harrisburg cannot iron out a spending plan, due to the state's impending structural deficits. PA has seen its credit rating downgraded for the last several years, as the state relied heavily on one-time revenue sources to balance the budgets.
Wolf said he would be open to expanding gambling in PA, though it won't be enough on its own to fix the problem.
"I haven't heard anybody say that is the end-all be-all to our budget deficit," Wolf said. "I'm open to a conversation on that, and I presume you can design it in a way that would bring in some revenues, but not enough to plug a $2 billion deficit."