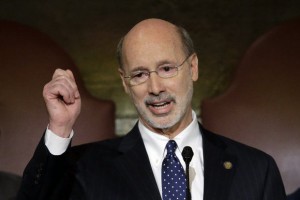 Well, that didn't take long.
Last week, Governor Tom Wolf revealed he created a new PAC to help him in the upcoming legislative battles.
Rebuild Pennsylvania, the new organization led by Mike Mikus, isn't wasting any time.
Today they sent out an email criticizing conservative champion State Sen. Scott Wagner. The basis of the message, titled "Scott Wagner's Tired of Saving the Children", was a quote that came from a tweet by the Morning Call's Steve Esack.
Sen. Scott Wagner, R, says he's tired of 'saving the children' talk when education debate is about school construction costs

— Steve Esack (@sesack) June 28, 2015
"Pennsylvania parents would be shocked to discover that their children are irrelevant in the education debate as Senator Scott Wagner suggests," Rebuild Pennsylvania spokesman Mike Mikus said. "Scott Wagner's outrageous comments show that the Republicans in Harrisburg will say just about anything to explain away their refusal to fund our public schools."
"Since Senator Scott Wagner is calling the shots in the Republican Caucus, every GOP Senator needs to go on the record as to whether or not they agree that children didn't matter when they crafted their sham of a budget," Mikus challenged.
Unsurprisingly, Sen. Wagner was not enthused to find himself the target of the latest budget battle.
"This is a pathetic and transparent attempt to mischaracterize Scott's remarks," Sen. Wagner's Chief of Staff Jason E. High told PoliticsPA. "What Scott actually said in the committee is that he's tired of the people that are defending the status quo, like the Governor and his union allies, claiming that it's 'for the children.' He went on to explain that we need to address the cost drivers such as pensions, prevailing wage, etc, or else the money isn't going to get to the kids."
"Mr. Mikus is either incapable of understanding the argument, or he's being willfully dishonest," he concluded.
All the while, the State Senate continues to debate the proposal passed by the House that the Governor has threatened to veto.