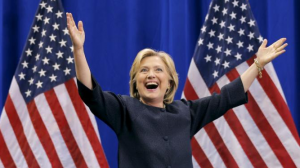 Along with over 80 other U.S. mayors, the leaders of PA's biggest cities threw their support behind Democratic presidential frontrunner Hillary Clinton.
Philadelphia Mayor Michael Nutter, who had already announced his endorsement of Clinton with more than 50 African-American mayors, again voiced his backing of the former Secretary of State on Friday, along with Pittsburgh Mayor Bill Peduto, Erie Mayor Joe Sinnott and Scranton Mayor Bill Courtright.
Clinton is "by far the most qualified" candidate in the field with her "record of service in Arkansas, Washington, D.C., New York and on behalf of the nation," Nutter said.
"When Hillary Clinton becomes President, Philadelphians will wake up every day knowing they have someone who will fight for their priorities in the White House," Nutter said. "I'm proud to support Hillary Clinton's candidacy and will be working through Election Day to support her agenda that will help Philadelphians get ahead and stay ahead."
PA could turn out to be a Keystone in Clinton's path to the presidency, with a recent F&M Poll revealing a substantial 52%-18% lead over Bernie Sanders among Democrats in the state.