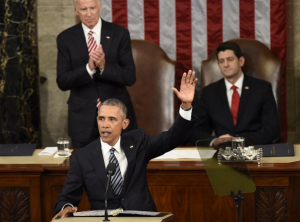 Last night, President Barack Obama delivered his final State of the Union address.
Below we've collected the various responses from Pennsylvania's Senators and Congressmen.
Senator Bob Casey
"Tonight President Obama delivered a forward looking, optimistic State of the Union Address that highlighted the progress our nation has made during the last seven years while acknowledging the substantial challenges we must confront in order to move the nation forward in the coming years. Seven years ago our nation was standing on the edge of an economic cliff that had not been seen since the Great Depression. In January of 2010 the unemployment rate was 9.7% nationally and 8.6% in Pennsylvania. Today, the unemployment rate is down to 5% nationally and in Pennsylvania. When President Obama took office 800,000 Americans were losing their jobs each month. The most recent jobs report saw 292,000 jobs created in December of 2015 and marked 14 million jobs created over 70 straight months of private sector job growth- the longest streak in our nation's history. Today, 17.6 million Americans have health insurance coverage due to the Affordable Care Act (ACA), including children who no longer can be discriminated against by insurance companies because of a preexisting condition; the number of Pennsylvanians without health insurance has dropped by hundreds of thousands. Investments in early learning are increasing and our K-12 education system has been reformed to emphasize local control and learning instead of over-testing. Abroad, the Administration has reinvigorated our nation's diplomatic power while aggressively seeking to dismantle terrorist networks. Our brave soldiers are leading a global coalition that has shrunk ISIS' hold on previously held territory by 30%. And during a difficult and complex time for the world the Administration has brought together the international community to finally begin to tackle climate change.
While President Obama and his Administration are to be commended for their work to achieve this progress, our nation also faces significant challenges domestically and internationally that will require action in the next year and the years to come. Among the challenges are the need to grow middle class incomes, to put in place a comprehensive Pre-K program, to make college more affordable and to destroy terrorist networks that seek to do harm to Americans. When it comes to the issue of raising incomes the Economic Policy Institute laid out the challenge in a recent report. The report showed that the increasing productivity of workers is not resulting in increased hourly earnings. From 1948 through 1973 productivity increased by 96.7% and hourly compensation increased by 91.3%- an almost perfect alignment. Since then worker productivity has increased by 72.2% yet hourly earnings have only increased by 9.2% meaning that productivity has grown 7.8x more than pay[1]. In order for incomes to increase and for our nation to move forward, Congress has to step up. There are too many challenges before our nation for Congress to just spend the next year waiting to see who the next President will be.
Congress should build on its work of K-12 reform by strengthening and expanding opportunities for quality early learning, by expanding child care funding and enacting my comprehensive Pre-K legislation, the Prepare All Kids Act. Last year I was able to secure the first Senate vote on a near universal Pre-K bill. Congress owes it to children in need of early learning to tackle this issue and try again. When a child learns more earlier in life they earn more later. Enacting my legislation to fund comprehensive Pre-K will put our most vulnerable children and our economy on a stronger footing. Last year I unveiled an expanded Child Care tax credit that would more families receive these benefits. Helping more families pay for child care though measures such as my expanded child care tax credit amendment will directly boost incomes and benefit our entire economy.
Congress should also move to reduce the debt burden on college graduates. A college degree is one of the single best tickets to the middle class- it shouldn't come with a lifetime of debt. This year I will also be pushing Congress to get off the sidelines in the fight against ISIS and finally debate an Authorization for the Use of Military Force (AUMF) against the terrorist group. It's time to end oversight by sound bite and categorical condemnations that are not followed up by plans when it comes to our battle against these terrorists and take concrete actions that put a chokehold on ISIS' financing while also taking steps that increase security at home. For example, Congress should reform the Visa Waiver program and ensure that those on the terror watch list cannot purchase firearms. As we have seen in Pennsylvania, our law enforcement officials are on the front lines of protecting the homeland from lone wolf attacks inspired by terrorist groups, and we need to make sure they have the resources and training necessary to confront this threat. I'll be pressing the Administration to hold the Iranian regime accountable. In terms of Iran it comes down to implementing the Joint Comprehensive Plan of Action (JCPOA) well, enforcing it like hell, countering Iranian aggression in the region, and deterring. In a letter to the Administration in December, I called upon the Administration to hold Iran fully accountable for its recent test of ICBMs and I will continue to press the Administration to take appropriate steps.
Our nation has traveled a substantial distance from the depths and darkness of January 2009. While the progress is to be commended, the work of growing middle class incomes, investing in early learning, reducing student debt and achieving security at home and abroad confront us. These are endeavors worthy of a great nation. If Congress approaches these challenges with a spirit of bipartisanship and cooperation, then 2016 can be a truly productive year for the American people."
Senator Pat Toomey
"Our country faces two great threats. First, our economy is growing too slowly.  Second, the threat to our nation, our citizens, and our allies from violent Islamist extremists is not waning. It is more dangerous than ever.
"I am disappointed the President failed to provide a serious, meaningful plan for each of these challenges.
"After seven years, it's clear we need a new agenda that will boost the economy, create more jobs, and lift paychecks for all Pennsylvanians.  We get there by reining in excess regulation and crony capitalism; reforming our broken tax code to encourage investment in the U.S.; and finally getting serious about Washington's addiction to overspending.
"I was sorry to see no real plan to fight the threat we face from violent Islamist extremism.  The President missed an opportunity to lay out a case for strong American leadership in the Middle East – especially tougher action to prevent Iran from obtaining nuclear weapons.
"Despite my many policy disagreements with the President, I believe real accomplishments, while tough, are not impossible.
"Look at achievements Congress passed and the President signed last year: reforming education, promoting trade, investing in our highways and bridges, bolstering our cybersecurity, and fixing how Medicare reimburses doctors. We enacted a number of measures that I have championed including keeping pedophiles out of schools, boosting funding for crime victims and Alzheimer's research, and suspending the job-killing medical device tax.
"While I am disappointed that the President's speech falls short on the economic and security issues that are on the minds of most Pennsylvanians, I am willing to work with the President if he is willing to chart a new course and find common ground. That's what the American people want and deserve."
Congressman Chaka Fattah
"Seven years ago, I joined with my colleagues in Congress as President Obama delivered his first State of the Union address. In it, he articulated a vision that has shaped his Presidency, ushered in a new era of economic progress, and defined our nation for generations to come.
"Tonight he conveyed this same sense of optimism for America's future, anchored by the success of several historic initiatives including universal health care, educational equity, marriage equality, and groundbreaking new advancements on climate change. Since taking office, he has moved our country forward, adding 14.1 million jobs, providing healthcare for nearly 18 million Americans, and reducing our deficit by a trillion dollars.
"Because of President Obama's leadership and the efforts of many in Congress—plus partners and collaborators across the nation—we are more prosperous, healthy, and more equal a nation than when he assumed office in 2009. I have been a proud supporter of the President since 2007, and was privileged to have a hand in the policies and programs centered on building a strong middle class that distinguished the last seven years.
"Most importantly, we have worked together to turnaround our economy. Our unemployment rate has dropped to 5%, down from 7.8% when the President took office. Along with my colleagues in Congress and the help of the President, we signed into law the Workforce Innovation & Opportunity Act, which reauthorized the Workforce Investment Act and updated it to ensure that our modern workforce is equipped to meet the growing demands of the 21st century. I have also vigorously championed the Administration's efforts around education and healthcare. Like President Obama, I believe that education is the great equalizer of our society, and have worked with him to ensure that every child has access to a superior education.
"But tonight's speech was not rooted in the past, it was forward-thinking, outlining the vision our President has had since his first day in office; a vision for one America that celebrates diversity, tolerance, and inclusiveness. Tonight President Obama delivered a message that should inspire hope and confidence in every American, in each city and town across our great nation. 
"I echo the President's assertion that the United States is a country of possibilities—and pledge to continue my work ensuring that every individual in this nation has the resources necessary to reach their fullest potential. Our nation is stronger when we work together, and I am confident that President Obama will move full speed ahead in the next 11 months—and beyond—to infuse the last year of his term with the same sense of determination and commitment to the American people that has defined his Presidency. I am excited to work alongside him as we sustain our efforts to advance our nation and retain the United States' leadership in the world."
Congressman Mike Kelly
"Tonight President Obama described the state of our union as he wishes it were, not as it actually is. He portrayed our economy as acceptably strong when growth is in fact nowhere near as robust as it could and should be. He spoke of national security, but completely ignored the international instability that his policies are leaving behind and has made us less safe. He proposed an expensive and utterly unrealistic list of new programs for taxpayers to fund but did not mention our near-$19 trillion national debt even once. Furthermore, while admitting the worsening division among Americans and their government, he failed to take any responsibility for deliberately pitting different groups of citizens against each other and pushing the boundaries of his power beyond the Constitution's limits. The sad truth of the matter is that after seven years of trying to drag an inherently center-right country in an aggressive left-wing direction, President Obama has left the state of our great union weaker, more divided, more anxious, more insecure, and much less hopeful than when he first took office. The nation needs a new president to restore unity, prosperity, strength, and confidence to our republic more than ever."
Congressman Scott Perry
"President Obama just delivered his final State of the Union address. It was his last opportunity to convince the American people that his agenda of an expanded federal government and use of unilateral executive action is working. I remain unconvinced.
We've heard President Obama deliver speeches before, but Americans know that someone has to pay the bill. We're $18 trillion in debt and can't keep spending money we don't have. The old, outdated, top-down approach from the federal government might help to grow Washington's jobs, but not ones here in the 4th District. The people I serve are sick and tired of "business as usual" and are convinced that our government no longer works for them.
If we're serious about getting the country back on track, the U.S. House must take aggressive steps to restore America's confidence by advancing solutions that shrink the power in Washington and put it back in the hands of each citizen to succeed based on their own abilities. The best way to do that is to reform the top-down system of governing in Washington, so Members – and the people they represent – can actually have a say in affecting policy outcomes. This means no more back-room deals that produce 2,000-page bills with less than 48 hours for Members to review. This means developing policy the way our Founders intended: through a bottom-up, collaborative process, with all Members, Republican and Democrat, contributing to the effort. I joined the House Freedom Caucus to fight for such changes.
One would expect the President to work with Congress – a coequal branch – to go through the lawmaking process outlined in the Constitution. All too often over the past 7 years, he's ignored the notion of coequal branches whenever it doesn't fit his political agenda.
The President has policy priorities he'd like to see enacted. Likewise, Congress has policy priorities it'd like enacted. The Constitution wasn't designed to allow either to work unilaterally. Believe me, I'd love to work around the President to reduce our crushing debt and build an opportunity economy where every American can pursue their dreams regardless of who they know. But the Constitution mandates that we find common ground, justifiably.  The President is welcome to join that process – but Congress should be focused on bold ideas to get our country back on the right track."
Congressman Glenn Thompson
"I consider safety and security to be the first priority of leadership and the primary constitutional duty of the federal government.  With the recent nuclear test in North Korea, continued violations of international sanctions by Iran, domestic terrorist attacks and the rise of ISIS, threats to our national security have multiplied over the past year.  This evening, we heard very little regarding the President's plan to address these threats to our nation.
"Our nation faces significant challenges beyond national security. We must put forth policies that will support economic growth, bring reform to our outdated and cumbersome tax system, and ensure that every American has access to opportunity in order to live up to their greatest potential.
"I was glad to hear the President mention recent 'bipartisan wins' in Congress, including the rewrite of our nation's elementary and secondary education policy.  With legislation like this, lawmakers have provided a roadmap to success in divided government.  The President said today he 'regrets' failing to be a unifying force throughout his first years in the White House.  I am hopeful that Congress can help him work toward that goal as his term winds down."
Congressman Patrick Meehan
"What we didn't tonight hear was a comprehensive strategy to defeat the Islamic State, or any assurance that Iran and North Korea will be held accountable for their belligerency.
President Obama had a chance to set a tone of collaboration and cooperation with Congress. But what we heard instead was more of the same – more of the same top-down Washington rules, regulations and mandates that have done nothing to expand opportunity for the middle class in Pennsylvania.
I am pleased we heard the President discuss the need for federal support for research into conditions like cancer and autism. Madeline Bell, the President of Children's Hospital of Philadelphia, was my guest in the House gallery today to call attention to the need to support the lifesaving research funded by the National Institutes of Health and I'm encouraged that the President identified the effort to cure cancer as a priority."
Congressman Mike Fitzpatrick
"Last night, the president touted what he includes as his legacy — doubling-down on his government, economic and foreign policies. However, the reality is that trust in government has eroded because his abuse of executive power and American foreign policy has emboldened countries like Iran while failing to destroy ISIS — all against the backdrop of an economic recovery that has included reductions in labor force participation and median household income.
Congress must take aggressive action, this year, to address our challenges head-on and restore a confident America. Whether it's reestablishing leadership internationally, protecting our communities or rebuilding our economy, hardworking Americans deserve real solutions — not the tired ideas of the past. There is common ground to be found on these issues, but only if we are willing to move forward – the American people won't settle for business as usual in 2016 and beyond.
I will continue to work in the best interest of the people of Bucks and Montgomery counties and always advance the causes that matter to them."
Congressman Bill Shuster
"The last eight years under President Obama have been difficult for this nation. Families have been forced into government run healthcare plans, small business owners are waking up each day to new government regulations, and everyday Americans are seeing news broadcasts filled with reports of radical Islamic terrorists murdering innocent people.
In President Obama's final State of the Union address he should have finally laid out a plan for the American people that would not simply contain or slow ISIS, but ensure that this evil is wiped off the face of the earth. Instead of continuing to promote measures that would infringe on our rights, he should have talked about why we must strengthen our security measures to stop more terrorists from entering the United States. Instead of using this address as a platform to criticize conservatives because of our continued fight against his failed policies like Obamacare, he should have focused on uniting our nation in a time when it needs leadership.
I have been sent to Washington with a singular duty: to serve the people of the 9th Congressional District. The ideas that the president puts forth would move us closer to a future that grows government, disempowers people, and ignores the threats we are facing from radical Islamic terrorists. I'll continue working each day to reject attempts at transforming this nation into one that none of us will recognize in the future. Instead, I'll continue listening to Central and Southwestern Pennsylvanians about what needs to be done in Washington, DC and do everything I can to advance their principles and beliefs in Congress."
Congressman Tom Marino
"What I heard tonight was more of the same. The President got back on the stump and turned the spotlight on himself. Aside from his indignant tone, it seemed as if the President merely came to rewrite his record and further divide the American electorate.
Unfortunately, he has not learned very much. On the domestic front, his policies have prohibited job creators from hiring new employees. For seven years he directed the agencies under his control to impose new regulations on industry and small business. Those regulatory costs were passed onto the consumers. Costs of living and doing business went up not to mention the costs of healthcare.
When he was presented with the facts showing the damage his regulatory agenda had done, he simply dismissed calls for reform. Instead he called for the all too familiar, but never proven, liberal formula of tax, regulate, spend and repeat.
The people of Pennsylvania's Tenth District know that is no way grow the economy and expand opportunity – the American people know that too. Instead, President Obama sought to pit Americans against one another. He consistently highlighted an 'us versus them' attitude. He was a divider, not a uniting figure.
Abroad, his policies were disastrous. The list of blunders, embarrassments and failures is long. From Iran to Iraq to Russia to North Korea to our own southern border, President Obama chose ideology rather than to face hard realities – but tonight he ignored those realities and sought to rewrite history.
While he soaked-up the spotlight one last time during his Presidency, ISIS continues to spread, the death toll is on the rise and the terror has reached our homeland. He has still not provided a plan to rally our allies and partners with mutual interests and kill every last one of ISIS's fighters. Instead, he relied more upon strongly-worded letters from the United Nations than on the full force of the American military. As President, he will not get a free pass to wage war without a clear plan for ultimate victory.
Given all we have seen throughout his time in the Oval Office, this speech was more about correcting his record, protecting his legacy and setting the stage for his supposed relevance in the upcoming election. It was not what I wanted to hear or hoped to hear but it is, ultimately, what I expected.
Congressman Lou Barletta
"As expected, the president indulged in a victory lap in his final State of the Union address, despite all of the mounting problems this country faces as a result of decisions he has made over the last seven years.  Our national security is in a more perilous position than ever before, his health care law has been a disaster, and his regulatory overreach has stifled private enterprise.  The prospects for the nation are indeed sound, but only because Americans are resilient and resourceful, and have a history of overcoming obstacles in order to succeed.
"The president made a big show of leaving a seat empty to represent victims of gun violence, but he failed to leave a space for Kate Steinle.  She was the young woman murdered in San Francisco by an illegal immigrant, a crime which is sadly representative of the failure of this president to enforce immigration laws.  Cities across the country have followed the president's example and become sanctuaries for people who have broken our laws, and our citizens are at greater risk because of it.  His amnesty policies for illegal immigrants have made our communities less safe and jobs more scarce for legal residents.  
"The principal responsibility of the federal government is to protect the national security, an area where President Obama has been woefully asleep at the wheel.  Having labeled the Islamic State as the 'JV team,' he moved on to calling them 'contained,' when in fact they were spreading and growing in strength and numbers.  We see terror attacks committed by agents of ISIS and by others in their name in Paris, San Bernardino, and Philadelphia, but the president's response has been to target the Constitutional rights of law-abiding Americans to arm themselves.  At the same time, he has given away the store to Iran, the most belligerent state sponsor of terrorism in the world.  This is the same Iran which, at the very time the president was giving his speech, was holding two U.S. ships and ten of our sailors in custody – not to mention at least four other Americans as political prisoners.  Our borders are wide open, ISIS is on the march, and each day brings us closer to a nuclear Iran.  Under no objective criteria could the president claim he has made America safer.
"Obamacare, the signature domestic 'accomplishment' of this administration, has been a dismal failure.  Begun with an embarrassingly faulty website, it has fallen millions of short of its promise of universal health care.  It promised lower premiums, but instead they have risen.  It assured people they could keep their existing insurance and their doctors, but instead they were displaced and separated from their physicians.  And it encouraged employers to scale back hours for some workers and completely eliminate others, rather than bear the burden of the mandated expenses.  It has contributed to an employment situation which has caused 93 million Americans to drop out of the labor force – more than at any other time in our history.  If this represents success, I'd hate to see failure.
"Throughout his two terms, President Obama has treated the Constitutional separation of powers as mere suggestions to be barely considered and then disregarded.  He has it in his head that if Congress doesn't behave exactly as he commands, then he can go it alone.  His regulatory agencies, from the Environmental Protection Agency to the Internal Revenue Service, have treated Americans as though they were enemy combatants, stamping out entrepreneurial spirit and punishing ideological foes.  The result has been frustration among job creators and a stagnation of private industry.
"All that said, within the House of Representatives, I find a willingness to work together on important issues every day.  In my Transportation and Infrastructure subcommittee, for example, all of our members enjoy a productive relationship, regardless of party, which has allowed us to save taxpayers almost $3 billion through better use of federal real estate.  In addition, my legislation to protect volunteer firefighters from Obamacare has passed the House three times without a single dissenting vote from either party.  In the areas where we can find agreement, real work does actually get done for the American people.
"Ours is the greatest nation the world has ever known.  There is no problem so insurmountable that it cannot be solved by Americans set free to employ their God-given talents and abilities.  For these uniquely American traits, and for the continued success of the grand experiment known as the United States of America, I will always be grateful and give thanks."
Congressman Brendan Boyle
"Tonight, President Obama made the choice to not take a "victory lap" of his accomplishments in this, his Eighth State of the Union address. Instead, the President focused on a future that depends on all of us working together and having rational, constructive debates. A future that can only happen if Republicans and Democrats work together. I agree with the President."
"President Obama also stressed the importance of transportation infrastructure and how the jobs it provides will continue to be the backbone to a recovering economy. Seven years ago when President Obama took charge of a nation facing its worst economic crisis since the great Depression, the unemployment rate was 10 percent. Now, it's 5 percent. And, much work still needs to be done."
"President Obama reinforced his renewed commitment to protecting our children from gun violence, a stance which is the right thing to do and one which I support."
"The Paris climate agreement, of which President Obama was a leading voice, signals and end to the fossil fuel era and is the culmination of nearly two decades of talks to cut dangerous greenhouse gas emissions and avoid climate change. I applaud President Obama's description of that achievement that included signatures of negotiators from more than 200 countries, as an example of American might and leadership."
"With his powerful words tonight, the President demanded that we continue to fight for the interests of America's families, continue to build the keystones of progress, and restore opportunity to every family. Working together, we can realize a vision of growth, security, and economic success for all Americans."
Congressman Joe Pitts
"The President can try to paint a rosy picture of his tenure in office, our economy, and of the state of our world today, but the American people know better. They know the security threats facing our homeland, with terrorist sympathizers arrested in Harrisburg and Philadelphia; they know that our economy is much too weak, with economic growth a full 11 points below an average economic recovery and with job growth disproportionately among part-time work. They know that the President's harsh, divisive rhetoric has contributed to the toxic levels of partisanship in our politics today. I hope that, for his last year in office, the President will work with Congress on matters of bipartisan agreement, such as enhancing our security, promoting American products overseas, and building roads and bridges at home."
Congressman Tim Murphy
"Another year, another State of the Union address by the President, but tonight stands out in stark contrast to years past. Just hours ago we received shocking news that the Iranian Revolutionary Guard captured two United States Navy vessels and ten sailors and have not yet released them. This can't be viewed as anything other than a hostile act and yet the White House is quick to tell us it won't be addressed this evening in the President's speech.
"The President's foreign policy of appeasement first, then 'strategic patience,' followed promptly by 'leading from behind' has been an utter failure. We must demonstrate strength and take strong action when necessary to fully stop terrorism. No more appeasement, no more pretending radical Islamist terrorists aren't on the move and no more pretending the actions by hostile nations are simply 'misunderstandings.'
"We must hold Iran accountable for today's events against the United States Navy. We must stop Iran, the biggest supporter of global terrorism, from developing nuclear weapons. The weak agreement the President put into effect has not stopped Iran and by the President's own admission it won't in the future. In Congress, we will continue to push for higher and enforced sanctions against Iran.
"I'm also tremendously disappointed with the 'empty chair' guest of the President.  This is nothing more than a political gimmick. Instead of pointing to a failure represented in an empty chair, imagine if we had sitting in that seat someone who received an early diagnosis, followed by treatment for serious mental illness, and was well on the road to recovery. The empty chair represents the tragedy. What about treatment before tragedy? We can save lives with the Helping Families in Mental Health Crisis Act and I restate my full faith and expectation that Speaker Ryan will uphold his commitment to bring the bill to the floor for a vote in the House after we move it out of the Energy & Commerce Committee."