PA Delegation Falls in Line for Speaker Vote, Minus Lamb and Perry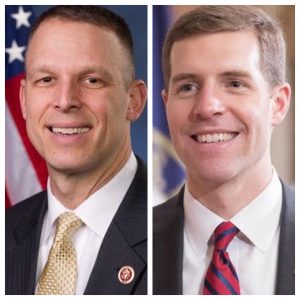 Eight new Representatives from the 18 member Pennsylvania delegation casted their first vote for Speaker of the House in the 116th Congress.
Just two of the 18 are standing alone from the majority of their respective parties.
Eight of the nine Pennsylvania Democrats voted for Rep. Nancy Pelosi (D-CA) to regain the House speaker's gavel, while eight of the nine Republicans in the state selected Rep. Kevin McCarthy (R-CA) to serve as the new minority leader according to the Allentown Morning Call.
Rep. Conor Lamb was the only Democrat to vote for Rep. Joe Kennedy III (D-MA) to serve as the next speaker, while Rep. Scott Perry was just one of five Republicans to vote for Rep. Jim Jordan (R-OH).
Speaker of the House vote results:

Nancy Pelosi: 220
Kevin McCarthy: 192
Jim Jordan: 5
Cheri Bustos: 4
Tammy Duckworth: 2
Joe Biden: 1
Stephanie Murphy: 1
John Lewis: 1
Joe Kennedy: 1
Stacey Abrams: 1
Marcia Fudge: 1
Thomas Massie: 1
Voting present: 3https://t.co/XDIV3Q9cBn

— NBC Politics (@NBCPolitics) January 3, 2019
Lamb vowed to not support Pelosi as Speaker during his upset victory in the special election for the old 18th Congressional District citing the need for "new leadership on both sides."
Kennedy III joined Lamb on the campaign trail during his special election, although the Massachusetts Democrat casted his vote today for Pelosi.
Working hard & having fun every day in #PA18. 40 days to go. Thanks again to @joekennedy for coming here to be a part of it. pic.twitter.com/NPbvXyAcJp

— Conor Lamb (@ConorLambPA) February 1, 2018
Perry, who according to The Hill is one of three Republicans vying to be the next chair of the conservative Freedom Caucus, voted for fellow member Rep. Jordan. 
Perry along with Jordan were two of the 11 Republicans in the Freedom Caucus to introduce articles of impeachment against Deputy Attorney General Rod Rosenstein in July 2018.
Jordan was not one of the five to vote for himself, as he cast his vote for McCarthy.