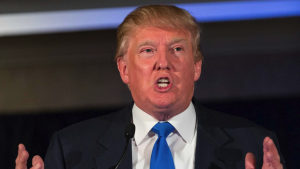 The PA Democratic Party aren't taking those charges of a "rigged" election lightly.
According to Nolan D. McCaskill of Politico, the Dems have filed a complaint accusing Donald Trump of trying to suppress turnout among minorities.
The complaint cites Trump's statements, the actions of his informal advisor Roger Stone and a report from Bloomberg last week that revealed the Trump team is planning "voter suppression operations".
"Trump's calls for unlawful intimidation have grown louder and louder, and the conspiracy to harass and threaten voters on Election Day has already resulted in acts that threaten the voting rights of registered Pennsylvania voters," the document said. "The Pennsylvania Democratic Party, and untold numbers of Pennsylvania voters, will suffer irreparable harm if the right to vote is imperiled by the same forms of virulent harassment that federal law has prohibited since shortly after the Civil War."

The Party wants an injunction against any efforts by the Trump campaign to intimidate voters.
"The complaints are long on rhetoric, short on substance, and are clearly designed to change the subject away from Hillary Clinton's mounting legal problems," the Trump campaign responded. "Stop the Steal and Roger Stone are not affiliated with the campaign, and we have no idea what they are doing.  The campaign is doing everything in accordance with applicable law—the suit does not challenge this, and asks only that  the law be followed, which the campaign is already doing."