By Ali Carey, Contributing Writer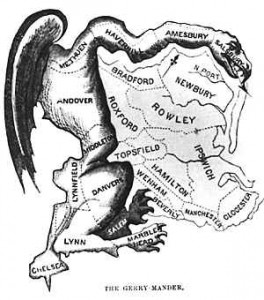 Note: The quotes from this story come from a Friday conference call that got lost in the frenzy of Pa. Society. Given further delays with congressional redistricting maps (including the news that maps are unlikely to come down the pike on Tuesday), they still seemed apt.
Pennsylvania Democrats know they can look forward to a revised congressional map likely to make it difficult for their party to retake a majority of the state's congressional seats. It turns out they're not happy with the timing either.
Friday morning, Democratic Chairman Jim Burn held a press call to denounce the Republicans' congressional redistricting process.
Burn accused Republicans of deliberately devising their plans behind closed doors for their party's benefit.  He also accused Republicans of taking advantage of the legislative system by stalling in order to leave no time for review or public comment before the final map is passed.
"The congressional redistricting process has been nothing more than a series of partisan tactics from the Republicans," said Burn. "There has been no speed, no transparency, and no fairness for the people of Pennsylvania."
Burn accused the Republicans of drafting "heavily gerrymandered" districts in order to protect Republicans in power.
"All we ever wanted as Democrats was to have an opportunity to sit at the table and make proposals, work in a bipartisan fashion, which would be a refreshing change and draw maps that include rather than exclude, draw maps that build bridges between constituents and the representatives," argued Burn.
In addition to the innate disadvantage Democrats would face in districts drawn to boost Republicans, the delay serves as a further obstacle to their efforts in 2012. Between fundraising and voter contact, it typically takes 18 months or more to run a competitive congressional challenge. Since would-be challengers won't know their districts, those campaigns will get a very late start for the 2012 cycle.
Additionally, several would-be candidates have declined to make public their intention to run for fear of being deliberately drawn out of the district of the incumbent they wish to challenge. Just ask Bill Vinsko of Wilkes-Barre. The Democratic attorney raised around $100,000 to challenge Rep. Lou Barletta, but recent reports indicate that he'll actually be a constituent of Rep. Tim Holden (D-Schuylkill) next year.