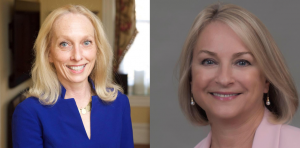 The Pennsylvania Democratic Party announced that Mary Gay Scanlon in the PA-7 special election and Susan Wild in the PA-15 special election for some of the strangest special elections this year.
Scanlon is the Democratic nominee for the new 5th Congressional district which overlaps largely with the old 7th district.  Wild is the nominee for the new 7th district which largely overlaps with the old 15th district.
"Last Tuesday, Democratic voters chose outstanding candidates in Mary Gay Scanlon and Susan Wild to represent our Party in the new congressional districts, which significantly overlap with the current ones," Pennsylvania Democratic Party Chairman Jack Hanna said.  
The special elections will be held under the old Congressional maps, meaning the winners of the special election will serve until the end of December when the old districts will cease to exist.  
"These special elections will give them the opportunity to start their Congressional service that much sooner and begin to move both Pennsylvania and our nation forward by fighting for good paying jobs, ensuring access to quality, affordable health care, making sure kids in every zip code have the education they need to be successful, and serving as an immediate check on the disastrous policies we see from the Trump White House," Hanna said.  
The candidates were chosen by the party's executive committee in consultation with the Berks, Chester, Dauphin, Delaware, Lancaster, Lebanon, Lehigh, Montgomery, and Northampton county party chairs.  
The PA GOP has not yet named its nominees for the special elections.