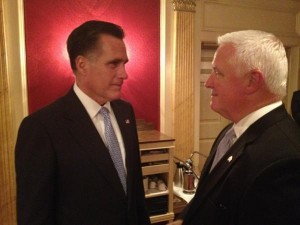 This week it has been all about the Republicans and the RNC. But the PA Dems aren't sitting on the sidelines.
Their target? Gov. Tom Corbett.
The Dems sent out an email alert Tuesday linking to an article written by Philly Daily News' John Baer. The article highlighted the differences between Pennsylvania's two Toms: Gov. Corbett and former Gov. Ridge:
"Gov. Tom Corbett, in his second year in office, isn't getting the kind of attention at the GOP convention that Gov. Tom Ridge did in his second year in office during the 1996 convention.

Corbett heads the state delegation in Tampa as Ridge did at Bob Dole's convention in San Diego.

But Corbett isn't speaking at this convention. Ridge spoke at that one."
Baer said there are a few reasons that Corbett wasn't given a more prominent role.
GOP state party Chair Rob Gleason said Corbett isn't a "self-promoter" and the Guv's press secretary said Corbett has "no national aspirations" and didn't seek a speaking slot.
There's another reason too: Corbett waited to endorse Mitt Romney until after Sen. Rick Santorum left the race.
But according to the Dems, the real problem is Corbett's dismal approval rating.
"America's least popular governor, Tom Corbett, is getting the cold shoulder at the Republican convention as national Republicans continue to distance themselves from Gov. Corbett and his unpopular policies," wrote the Dems in an email. "National Republicans don't want to remind Pennsylvanians that Mitt Romney and Tom Corbett have the same out of touch agenda."
The Dems kept on message yesterday with another alert that hit the same point: Corbett's poll numbers are "underwater" and Romney has been avoiding him at the convention and in the Keystone State to prevent a negative association:
"It's no surprise that national Republicans have figured out exactly what Pennsylvanians already knew, Governor Corbett and his failed policies of devastating education cuts, laying off teachers, raising taxes on middle class Pennsylvania families and refusing to fund desperately needed bridge and road repairs is unacceptable," said PA Dems spokesman James Hallinan in an email titled "Toxicity Alert."
State GOP spokesperson Valerie Caras said that the Dems' emails show the true difference between the two parties' tactics and messages.
"If the Pennsylvania Democratic Party wants to talk political toxicity, ask them why Democrats like Sen. Bob Casey and Rep. Mark Critz flee when President Obama comes to town. Ask them why President Obama's campaign is based on attacks and distractions so he can avoid talking about four years of broken promises and record high unemployment. President Obama's failed record is the epitome of political toxicity and vulnerable Democrats throughout Pennsylvania know it," she said.
Caras added that the GOP will win – and will do so with the help of Corbett, who she called "a key member of our team."
While it's true that Corbett wasn't on hand for some of the more recent GOP stops across the state, he did make an appearance with Romney when the candidate stopped in Lebanon County in June and has since sent out a press release endorsing Romney's energy plan.