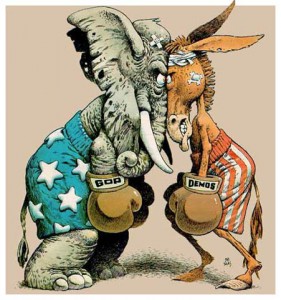 The most entertaining conflict between Pa.'s biggest political parties happened Thursday on an email chain.
"Join the PAGOP in Supporting Gay Marriage," read the subject heading in an email from the Pa. Democratic party's press office. It went to a long list of social conservatives.
Pa. Republican Party Executive Director Bob Bozzuto was cc'ed. An unknown number of reporters was bcc'ed, PoliticsPA included.
"We were surprised to learn that the Pennsylvania Republican Party no longer opposes marriage equality," the email read. It cited a PoliticsPA report about the PAGOP and its criticism of Attorney General Kathleen Kane. The party slammed Kane for refusing to defend the state's ban on same sex marriage, but declined the chance to comment on the marriage issue itself.
"Now that the Pennsylvania Republican Party supports marriage equality, we urge you to join both of us in supporting it," the Dems continued in the email. "Public opinion is clearly on our side, and now with both party's support here it Pennsylvania, it the time to get on board and bring full equality to our Commonwealth."
Same sex marriage opponents including the Pa. Family Institute, the Conservative Party of America, former state Rep. Sam Rohrer, and state Rep. Daryl Metcalfe among others received the email.
"Trolling" as defined by Urban Dictionary:
Trolling is trying to get a rise out of someone. Forcing them to respond to you, either through wise-crackery, posting incorrect information, asking blatantly stupid questions, or other foolishness. However, trolling statements are never true or are ever meant to be construed as such. Nearly all trolled statements are meant to be funny to some people, so it does have some social/entertainment value.
Bozzuto replied directly to the party in an email that did not cc reporters, "Pennsylvania law is clear as is the GOP platform. Not clear if Kathleen Kane has read the constitution. We can send one over."
The Pa. Dems again sent Bozzuto's response to social conservatives and reporters, and once again challenged him on same sex marriage.
After realizing that the exchange was being surreptitiously shared, Bozzuto responded in kind – and bcc'ed the PAGOP press list.
"Let me be clear: the Republican Party of Pennsylvania, as stated clearly in our platform, supports traditional marriage," Bozzuto said.
"Not only have you embarrassed yourselves by attempting to mischaracterize the Republican Party's clear position on the issue of marriage, you are also using this issue to blatantly avoiding having to discuss Attorney General Kathleen Kane's inability to find a Constitution with two hands and a flashlight."
"Also, the Pennsylvania Democratic Party has also been silent on what we have revealed to be Kathleen Kane's shameless and stunning hypocrisy. While sparring with Patrick Murphy in last year's Democratic primary for Attorney General, Kathleen Kane told Murphy that he can't 'pick and choose' which laws to enforce. I am sure you have seen our video, but I am curious why you have remained silent on its message."
The Dems didn't respond to that one. It is the end of the chain – for now.