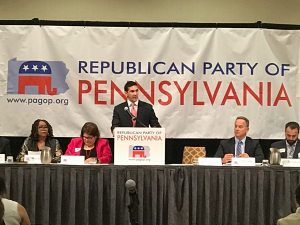 The Pennsylvania Republican Party met this weekend in Harrisburg for its Fall meeting, including its Fall dinner with speeches from Chairman Val DiGIorgio, and the Party's seve Judicial candidates.  The General meeting featured updates from the different committees and caucuses.
Traditionally, the Fall meeting during odd years is a chance for candidates running or considering a run for statewide office to meet with state party members ahead of next year's Winter meeting.  This year saw some of that, with Gubernatorial candidate Paul Mango throwing a reception after the dinner.  State Senator John Rafferty (R-Montgomery) also hosted a reception for the Judicial candidates, sparking some to ask if he was considering a run for office next year.  Rumors during the reception were that Rafferty was hosting it as a thank you for the party members for their help during his run for Attorney General last year, and to help the Judicial candidates meet the party members ahead of the Fall campaign season.  
While he was not hosting a reception, U.S. Senate candidate Jeff Bartos visited both receptions to meet with party members.  Senate candidate and Congressman Lou Barletta (R-Luzerne) was also in attendance at the dinner, and gave the Congressional update during the General Meeting.  
The General Meeting featured the usual updates from the party's committees and caucuses.  The party passed two resolutions during its meeting, one memorial resolution for state party Don Ely who passed away earlier this year.  The other resolution was a commendation for Delaware county state party member Lillian Griffith who had to resign from her seat after serving on state committee since 1943.  
The meeting concluded with the Judicial candidates thanking the state party for the work they have done and will do going forward through election day.