Editor's note: PoliticsPA mixed up dates for the Republican State Committee summer meeting and missed the chance to cover it for this site. We apologize, and would like to offer a recap of last weekend's events:
Republican Party officials have declared the summer committee meeting a success.
Held from June 8 to 9 at Seven Springs Mountain Resort in Somerset County.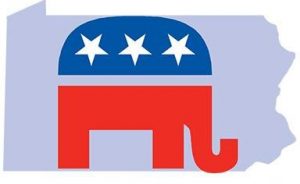 Leaders said membership discussed the strategies they planned to use during the upcoming fall elections and shared critical information to those who were new to the committee.
In a press release, Republican Party of Pennsylvania Chairman Val DiGiorgio said the entire group is heading into the summer energized and ready to tackle its two top races:
"We look forward to continuing the process of putting the groundwork in place for a successful fall effort and defeating America's most liberal Governor, Tom Wolf; taking down liberal-progressive (U.S. Senator) Bob Casey; keeping Pennsylvania's Congressional delegation red; and returning our historic Republican majorities to the Pennsylvania General Assembly," he said.
DiGiorgio said after seeing "the largest class of new members we've ever had," including a surge of Young Republicans, he has never been more proud to be a Republican.
And featured at June 8's dinner was a special guest: former White House Press Secretary Sean Spicer, who attended the PA GOP summer picnic.
Included below is an agenda of events from the weekend:
Friday, June 8
10 a.m. to 5 p.m.: Registration
Noon to 1 p.m.: Leadership lunch and meeting
1 p.m. to 2 p.m.: Campaign briefing
2 p.m. to 3 p.m.: New member orientation
3 p.m. to 4 p.m.: Chairman's meeting
4 p.m. to 5 p.m.: Resolutions
4 p.m. to 5 p.m.: Breakout meetings
5 p.m. to 6 p.m.: Chairman's reception
6 p.m. to 10 p.m.: Summer picnic
Saturday, June 9
7 a.m. to 10 a.m.: Registration
7:30 a.m.: Caucus meetings
10 a.m.: General meeting of the Republican Party of Pennsylvania