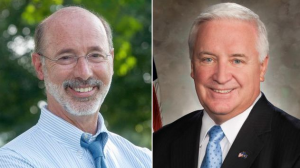 We're just hours away from the first gubernatorial debate of the election and the candidates should be well prepared.
In order to get ready for the event, campaigns typically conducted mock debates for practice. The candidate will participate answers to anticipated questions and often someone will fill in for the opponent.
The person who plays the other candidate can range from anyone to a staffer to a former Governor it seems.
PoliticsPA has learned that former Governor Mark Schweiker played Wolf in the Corbett campaign's debate sessions.
Meanwhile, former New Jersey Congressman Rob Andrews took on the role of Governor Corbett in order to prep the Democratic nominee.
The Corbett and Wolf campaigns refused to confirm or deny whether these men participated.
The debate is scheduled to take place at 7:30 at the PA Chamber Dinner in Hershey.
Update: The Corbett campaign told PoliticsPA that Lt. Governor Jim Cawley stood in for Wolf during debate sessions.