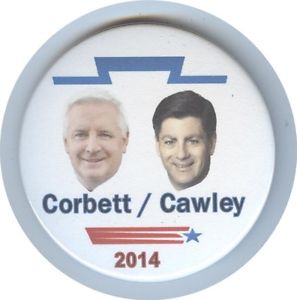 Governor Corbett and Lt. Governor Cawley unveiled their full campaign team yesterday: a team that they hope will lead them to a 2010-esque sweeping victory.
"For three years, Lt. Governor Cawley and I have kept our promises to the people of Pennsylvania to keep taxes low, reform and reduce the size of state government and put Pennsylvanians back to work," Corbett said. "I am proud to have the support and friendship of some of Pennsylvania's most well-respected leaders who all care deeply about the future of Pennsylvania."
Former Pennsylvania Governors Dick Thornburgh, Tom Ridge and Mark Schweiker and the first elected female Pennsylvania Supreme Court Justice Sandra Newman will serve as honorary campaign co-chairs.
Bob Asher, Jack Barbour, Robert Tambur and Christine Toretti will serve as campaign co-chairs.  Bob Asher, Pennsylvania's Republican National Committeeman, served as co-chair of the Governor Corbett Inaugural and 2010 campaign. Jack Barbour served as co-chair of Gov.-Elect Tom Corbett's transition team and 2010 campaign.  Robert Tambur is the founder of Tammac Holdings Corp., a successful financial services and real estate firm in Wilkes-Barre.  Christine Toretti is Pennsylvania's Republican National Committeewoman.
Charlie Kopp, a legal advisor to the transition team and 2010 campaign, will serve as Senior Legal Advisor, while Lawrence Tabas will serve as the campaign's General Counsel.
The full leadership team is listed below, as provided by the Corbett-Cawley campaign in a press release, followed by members of the campaign team to date.
Corbett-Cawley Campaign Leadership Team
Honorary Co-Chairs:

The Honorable Richard "Dick" L. Thornburgh

76th United States Attorney General (1988-1991)

41st Governor of Pennsylvania (1979-1987)

The Honorable Thomas "Tom" J. Ridge

1st Secretary of Homeland Security (2003-2005)

1st Assistant to the President for Homeland Security (2001-2003)

43rd Governor of Pennsylvania (1995-2001)

The Honorable Mark S. Schweiker

44th Governor of Pennsylvania (2001-2003)

The Honorable Sandra S. Newman

1st Elected Female Pennsylvania Supreme Court Justice (1995-2006)
---
Co-Chairs:

Robert "Bob" B. Asher – Montgomery County

Republican National Committeeman for Pennsylvania

Board of Directors' Co-Chairman, Asher's Chocolates

Co-Chair, Corbett Cawley Inaugural Committee

Co-Chair, Tom Corbett for Governor 2010

John "Jack" A. Barbour – Allegheny County

CEO, Managing Director and Board of Directors' Chairman, Buchanan Ingersoll & Rooney

Co-Chair, Gov.-Elect Tom Corbett's Transition Team

Co-Chair, Tom Corbett for Governor 2010

Robert L. Tambur – Luzerne County

Chairman and CEO, Tammac Holdings Corp.

Christine J. Toretti – Indiana County

Republican National Committeewoman for Pennsylvania

Former Chairman and CEO, S.W. Jack Drilling Company

Founder and Chair, Anne B. Anstine Excellence in Public Service Series

Co-Chair, Gov.-Elect Tom Corbett's Transition Team
---
Senior Legal Advisor:

Charles "Charlie" G. Kopp

Senior Counsel, Cozen O'Connor

Legal Counsel, Gov.-Elect Tom Corbett's Transition Team

Legal Advisor, Tom Corbett for Governor 2010
---
General Counsel:

Lawrence J. Tabas, Esq.

Partner and Chairman for Health and Election Law, Obermayer Rebmann Maxwell & Hippel

General Counsel, Republican State Committee
---
Corbett-Cawley Campaign Team
General Consultant:

John Brabender

Brabender Cox
---
Polling:

Brian Tringali

The Tarrance Group
---
| | |
| --- | --- |
| Analytics: | Behavior Matrix |
---
| | |
| --- | --- |
| Campaign Manager: | Mike Barley |
---
Finance:

Nan McLaughlin

Finance Director

Ashley Jordan

Deputy Finance Director

Caitlin Schroder

National Fundraiser

Amy Petraglia

Western Pennsylvania Fundraiser

Carey Sirianni

Western Pennsylvania Fundraiser

Jen Zaborney

Central Pennsylvania Fundraiser

Kristin Nash

Northeast Pennsylvania Fundraiser

Kristin Corrigan

Southeast Pennsylvania Fundraiser
---
Political:

Mike Downing

Political Director

Josh Novotney

Southeast Regional Field Director

Robert Johnson

Western Regional Field Director (Effective Mar. 17)

Jake Felker

Central Regional Field Director

Vince Galko

Northeast Regional Field Director

Jason Fitzgerald

Northeast Central Regional Field Director

Antori Miranda

Hispanic Inclusion Director
---
Communications:

Chris Pack

Communications Director

Billy Pitman

Press Secretary

Ali McFadden

Deputy Communications Director
---
Digital:

Becky Mancuso

Brabender Cox, Sr, Digital Strategist

Megan Howie

Brabender Cox, Digital Strategist
---
Administrative and Scheduling:

Doug Rickards

Comptroller

Lynda Bowman

Accounting

Vince Paese

Staff Assistant