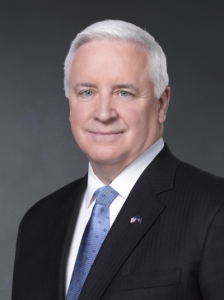 Governor Tom Corbett had a great day in Philadelphia last week.
During a campaign fundraiser held at the Philadelphia Country Club, the Republican incumbent brought in over $500,000 — more than one-third of what he raised in the entire first quarter of this year. That is an impressive one-night total.
The event was hosted by Republican National Committee member and major Corbett supporter, Bob Asher.
Although Corbett said that his campaign was in a "strong position from a fundraising and organizational perspective" earlier this month, the incumbent spent more than he brought in and he failed to out fundraise one of his Democratic challengers, Allyson Schwartz — a feat he likely expected to accomplish with his strong and committed voter base established during his 2010 run.
But now Corbett is clearly revving up his campaign and preparing for a strong run in the general election.
As for the primary, his only challenger, businessman Bob Guzzardi, has failed to mount an effective enough campaign to beat out the incumbent Corbett. According to his first quarter financial report, Guzzardi has less than $400 on hand to mount an offensive against the Governor.
So although Corbett remains the most vulnerable Governor according to the Washington Post's blog The Fix, it seems clear that he will have the funds to run an effective campaign against whoever wins the Democratic primary in May.