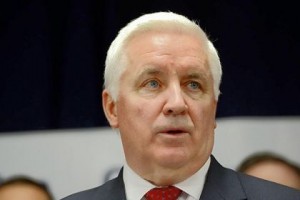 The Governor and PA environmentalists are currently in a heated battle over the creation of the state's smog pollution solution.
According to a report from the Harrisburg Patriot News, The Sierra Club has successfully appealed a refusal by Governor Corbett's office to release documents related to the drafting of a state plan intended to reduce smog pollution.
The Sierra Club is interested in correspondence concerning the smog plan because it believes that the drafters may have been compromised due to influence from corporations that contribute to PA's smog.
The Sierra Club requested the documents in April through a Right-to-Know request, but was denied via claims that the documents requested were "internal, predecisional deliberations" and subject to attorney-client privilege.
The request came after the Sierra Club claimed that the smog plan released by the administration, which was federally required due to PA's poor air quality, included standards that actually allowed coal plants to increase their smog pollution.
"We want to understand why this plan is so poor," Sierra Club spokeswoman Kim Teplitzky said. "It doesn't appear they (the plan's drafters) were listening to us, so we would like to know who else they were listening to."
The Office of Open Records issued today that Corbett must hand over "any and all records" concerning the drafting of the plan to the Sierra Club. This includes correspondence with the corporations in the industry that the Sierra Club believes influenced the plan's drafting.
The governor's office also worked to ensure that this ruling would exclude Gov. Corbett, and would only pertain to the thirteen members of his Executive Staff. The Office of Open Records, however, maintained that the governor's own correspondence must be released.
Corbett's office has 30 days to either provide the Sierra Club with the records or to appeal the decision with the Commonwealth Court.
"People deserve to know what's going into the plan itself because it has an impact on people's health…and their kids' health," Teplitzky said. "The Office of Open Records was very clear in their ruling, so we hope the administration will follow suit and release the records."
The governor's office has so far declined to comment.