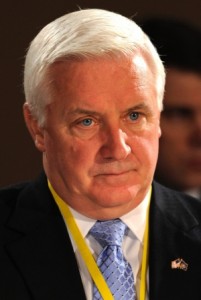 Robert Morris University conducted a poll for the Pittsburgh Tribune-Review following the gubernatorial primary last Tuesday. Without mentioning the head-to-head numbers between Corbett and Wolf, the Tribune-Review released Corbett's own personal poll numbers.
Though now 30.8% of Pennsylvanians hold a positive view of the governor, a slightly higher percentage than the 29.4% found when polled in February, Corbett still only seems to be satisfying 1 in 3 respondents.
RMU's Polling Institute found that Corbett polled poorly across the board; respondents of different ages, marital statuses, and genders all had similar percentages of disapproval.
RMU's February poll stated that 48% of senior citizen respondents were not happy with the governor. The most recent poll shows an increase in this figure to 57%. A plausible reason behind this increase may be that seniors support Tom Wolf's 5% severance tax on the natural gas industry as they have less to lose if private sector job creation suffers, as Corbett claims it will.
Tom Wolf, after handily winning the democratic nomination, was not mentioned in the sections of the poll that were released. Corbett's poor numbers may, however, be at least partly a result of Wolf's attack ads during primary season, which claimed that the Governor slashed funding to public education and refused to tax the natural gas industry.
With education and taxation of the natural gas industry, respectively, being the first and second largest polling issues, the outcome of the democratic challengers' effective ad campaigns may be evidenced in this recent poll.
506 Pennsylvanians responded to the poll, with a margin of error of plus or minus 4.5 percentage points. The Tribune Review published no information regarding how the sample of citizens were selected or polled.