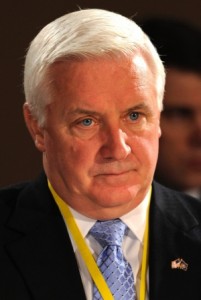 It's become almost a routine by now, although certainly one that Gov. Corbett does not enjoy.
With the end of another month, the Washington Post's blog The Fix yet again released their list of the most vulnerable Governors in the upcoming 2014 midterm elections.
For the 10th straight month, the unfortunate honor went to Gov. Tom Corbett. They describe the race thusly:
1. Pennsylvania (R): The Democratic primary has become very interesting very quickly. Rep. Allyson Schwartz (D) is doubling down on her Obamacare vote in a way you won't see in most other races. She still has ground to make up to catch businessman Tom Wolf (D), but close observers say it's still possible. None of this changes the fact that Gov. Tom Corbett (R) remains the most vulnerable governor in the country. (Previous ranking: 1)
The Democratic candidates for Governor include former Department of Revenue Secretary Tom Wolf, Congresswoman Allyson Schwartz, State Treasurer Rob McCord and former DEP Secretary Katie McGinty. Businessman Bob Guzzardi is also running against the Governor in the Republican primary.